The Clockmaker's Daughter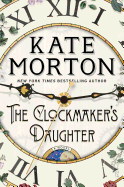 When Elodie Winslow, an archivist in London, stumbles on a box of assorted artifacts at work, she uncovers a mystery. A leather satchel holds a sepia photograph of a beautiful unknown woman and a sketchbook with an elaborate drawing of Birchwood Manor, home of Victorian painter Edward Radcliffe. But who was the woman, and what was her relationship to Radcliffe? And though she knows it's illogical, Elodie is sure the house is the same one from a bedtime story her mother used to tell. As she begins investigating, pieces of the house's complicated past, including a long-ago summer that ended with the violent death of Radcliffe's fiancée, come to light.
Kate Morton's sixth novel, The Clockmaker's Daughter, draws on some elements and themes from her previous works, such as The Lake House and The Secret Keeper: a grand country house with many secrets; a family saga spanning generations. This narrative is more complex, though, with sections focusing on multiple eras, and interludes exploring the life of the title character and her mysterious connection to the house. The shifts between Elodie's present-day narrative and the other strands can, at times, be confusing, especially as the cast of characters expands. But several of the protagonists are interesting in their own right, including Radcliffe's sister, Lucy, a naturalist who used the house as a school for girls, and Juliet, a London journalist who spent a summer at Birchwood with her children during the Blitz.
Each of the narratives leads back somehow to the fateful summer of 1862 and the book's central mystery. Like the house itself, the novel contains hidden corners and unexpected twists, and while some questions are eventually answered, others are left lingering. Fans of Morton's atmospheric novels will find much to enjoy here. --
Katie Noah Gibson
, blogger at
Cakes, Tea and Dreams