Passing for Human: A Graphic Memoir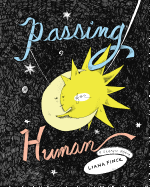 How often do we reinvent ourselves throughout our lifetimes? And what do we gain and lose each time we redefine who we are, to ourselves and to the world at large? These are some of the intriguing questions Liana Finck explores in her graphic memoir, Passing for Human.
In Finck's case, she felt like an outsider, different than most people, with desires and dreams that didn't mesh with the conventional standards of being a woman. She called this otherness her shadow, which disappears and reappears throughout her story as she pays attention to her calling and alternately ignores it. In pondering her life, she depicts herself as an artist looking for a way to write the book that the reader is holding. With each new chapter, she starts her narrative over again, giving readers her mother's life story, then her father's, and these sections capture the strangeness of her father and the wisdom of her mother.
Various quotes from Wallace Stevens, Emily Dickinson and others and interpretations of stories from the Bible are used to offset new segments. Good against evil, God and the devil, love and relationships, shame and fear are themes throughout, with the fears imaginatively depicted as two rats that gnaw on Finck's shoulders. The line drawings are simple yet expressive. They convey the deep feelings of longing and desire, gloominess and dismay that Finck experiences as she continues the process of becoming her own highly creative and inventive person. --
Lee E. Cart
, freelance writer and book reviewer