A New Map of Wonders: A Journey in Search of Modern Marvels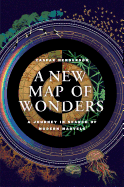 A New Map of Wonders: A Journey in Search of Modern Marvels is a wide-ranging, almost impossibly learned investigation into wonder, "both the things we wonder at and the nature of wonder itself." As a follow-up to The Book of Barely Imagined Beings, Caspar Henderson has set himself an ambitious task with broad parameters, one that incorporates science, philosophy, art criticism and more to examine one of the most fundamental human experiences. A New Map of Wonders is a reminder of the many ways advances in technology and knowledge have enriched and added to the bizarre suite of marvels this world has to offer us.

To give the book some sense of structure, Henderson has grouped his wonders into seven categories--mimicking the Seven Wonders of the World--including familiar wonders like light and the brain, among other idiosyncratic choices. With countless footnotes, illustrations and photographs, readers will be hard-pressed not to come away with their minds expanded by some of the facts and theories on display. More importantly, Henderson is a fun, clever guide to the inner workings of hearts and galaxies, seemingly able to conjure the right metaphor or literary reference to describe any number of complex phenomena. Writing about the eventual, apocalyptic fate of our planet, Henderson muses that "maybe there is some truth in the old Norse idea that the future is determined in fibres that have already been selected and are being woven." A New Map of Wonders is an exciting reminder that awe and curiosity are not limited to the ancients. --Hank Stephenson, bookseller, Flyleaf Books, Chapel Hill, N.C.