From the Shelf
Native America's Overlooked History
As Native American Heritage Month draws to a close, here are four nonfiction books that help to illuminate the all too frequently overlooked history of the indigenous peoples of the Americas.
In 1491: New Revelations of the Americas Before Columbus (Vintage, $18), Charles C. Mann offers a sweeping survey of what scholars have learned about the Americas before the arrival of Christopher Columbus in 1492. Ranging from the Incan Empire and the peoples of the Amazon basin to the Aztec capital of Tenochtitlan and the mound builders of Cahokia, 1491 challenges many of the myths that Americans learn about what the Western Hemisphere was like.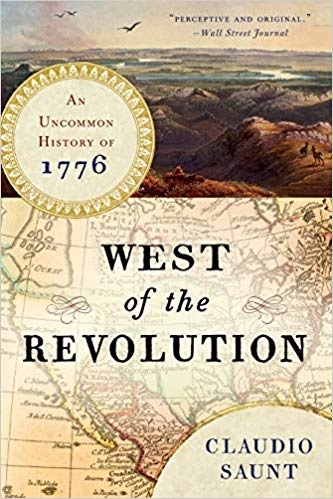 West of the Revolution: An Uncommon History of 1776 (Norton, $16.95) is historian Claudio Saunt's look at what else was happening on the North American continent in the year that the United States of America declared its independence. While the Revolutionary War was being fought, the Spanish first arrived in what would become San Francisco, Russian fur trappers scoured the Alaskan coast and the Sioux discovered the Black Hills.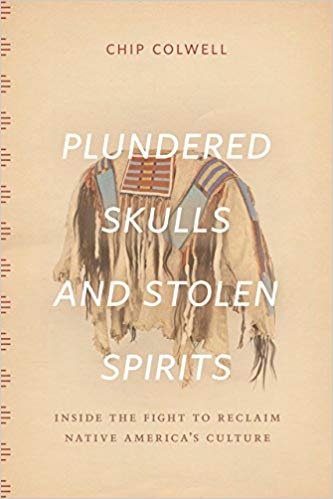 Since the Native American Graves Protection and Repatriation Act was passed in 1990, hundreds of tribes have used it to help them recover from museums and cultural institutions not only sacred objects but also human remains. In Plundered Skulls and Stolen Spirits: Inside the Fight to Reclaim Native America's Culture (University of Chicago, $18.99), Chip Colwell discusses the history of the repatriation movement, as well as past and present struggles over specific artifacts and remains.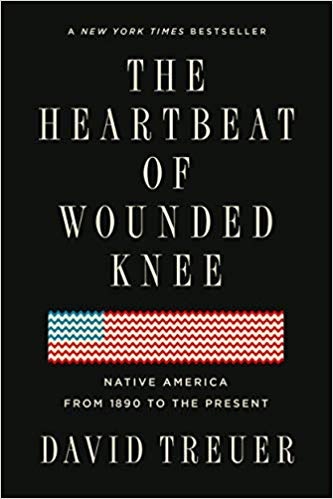 Published earlier this month, David Treuer's The Heartbeat of Wounded Knee: Native America from 1890 to the Present (Riverhead, $17), challenges the misguided notion that Native American history ended following the Wounded Knee massacre in 1890. Treuer (Rez Life) discusses not only his own upbringing as an Ojibwe living on a reservation in Minnesota but also how Native Americans adapted, survived and resisted during times of great upheaval and in the face of racism and oppression. --Alex Mutter
In this Issue...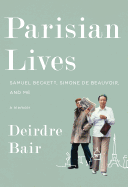 A formidable biographer of Samuel Beckett and Simone de Beauvoir describes the pleasures and pitfalls of writing about her iconic subjects.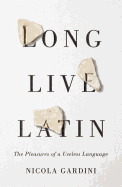 A passionate Oxford professor of languages explores the beauty and history to be found in the study of Latin literature.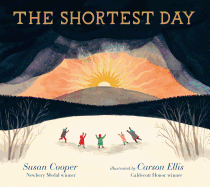 This uplifting, illustrated poem for young children shows how ancient winter solstice rituals are still alive in modern holiday traditions.
Review by Subjects:
Fiction ⋅ Mystery & Thriller ⋅ Science Fiction & Fantasy ⋅ Biography & Memoir ⋅ History ⋅ Essays & Criticism ⋅ Travel Literature ⋅ Children's & Young Adult

Upcoming Events
Maureen Johnson - The Hand on the Wall
01/23/2020 - 7:00PM
Truly Devious #3, Young Adult Book Talk & Signing Maureen Johnson is the bestselling author of several novels, including 13 Little Blue Envelopes and the Truly Devious series. Johnson will discuss and sign The Hand on the Wall (Truly Devious #3) ($18.99 Katherine Tegen Books), the witty and pulse-pounding conclusion to the Truly Devious series as Stevie Bell solves the mystery that has haunted Ellingham Academy for over 75 years. Ellingham...
Scott Ortman - Painted Reflections
01/24/2020 - 7:00PM
Isomeric Design in Ancestral Pueblo Pottery, an Art Book Talk & Signing Scott Ortman, author and contributor, will discuss and sign Painted Reflections : Isomeric Design in Ancestral Pueblo Pottery ($37.50 Museum of New Mexico Press). This book examines design in Ancestral Pueblo pottery from various museum collections in the Southwest. The concept of isomeric design is based on an analogy with isomers in chemistry, which refers to compounds that are chemically...
Book Candy
Subtitle Quiz
Pop quiz: "Can you guess the book by the subtitle?" Mental Floss challenged.
---
Open Culture invited font nerds to "Download Hellvetica, a font that makes the elegant spacing of Helvetica look as ugly as possible."
---
"In the old city of Baku, Azerbaijan, resides the only museum in the world dedicated to miniature editions of books," Atlas Obscura noted.
---
More than 160 "extraordinary" letters between Ian Fleming and his wife, Ann, will be sold at auction next month by Sotheby's, the Guardian reported.
---
Vintage books were discovered inside the walls of the flood-damaged Salt Lake City Public Library.

Great Reads
Rediscover: Gahan Wilson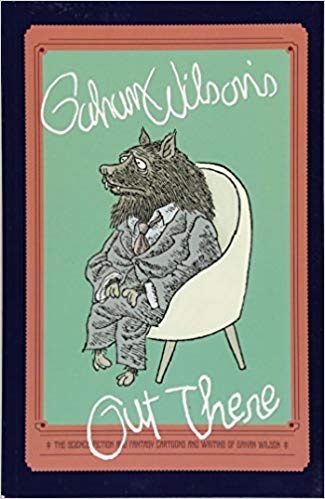 Cartoonist, illustrator and author Gahan Wilson died last week at age 89. His "outlandish, often ghoulish cartoons added a bizarrely humorous touch to Playboy, the New Yorker, National Lampoon and other publications in the era when magazines propelled the cultural conversation," said the New York Times. Several collections of Wilson's work have been published, including Nuts: A Graphic Novel; Gahan Wilson Sunday Comics; Is Nothing Sacred?; and The Man in the Cannibal Pot. He also wrote and illustrated a number of children's books, as well as two mystery novels (Eddy Deco's Last Caper, Everybody's Favorite Duck) for adults.

"Some cartoonists can be good by having jokes, gags, and they're funny gags," New Yorker editor David Remnick observed in Gahan Wilson: Born Dead, Still Weird, a 2013 documentary directed by Steven-Charles Jaffe. "The really great ones develop a private language, a set of characters, a set of expectations, a world. Gahan Wilson developed a world."

"Gahan Wilson is dead. I'd make a joke about it, but nobody joked ever about Death as well as Gahan, or, I suspect, for as long," Neil Gaiman wrote on his website, where he shared his introduction for Gahan Wilson: 50 Years of Playboy Cartoons. Wilson's most recent collection, Gahan Wilson's Out There, is available from Fantagraphics ($29.99, 9781606998458).

The Writer's Life
Reading with... Jaquira Díaz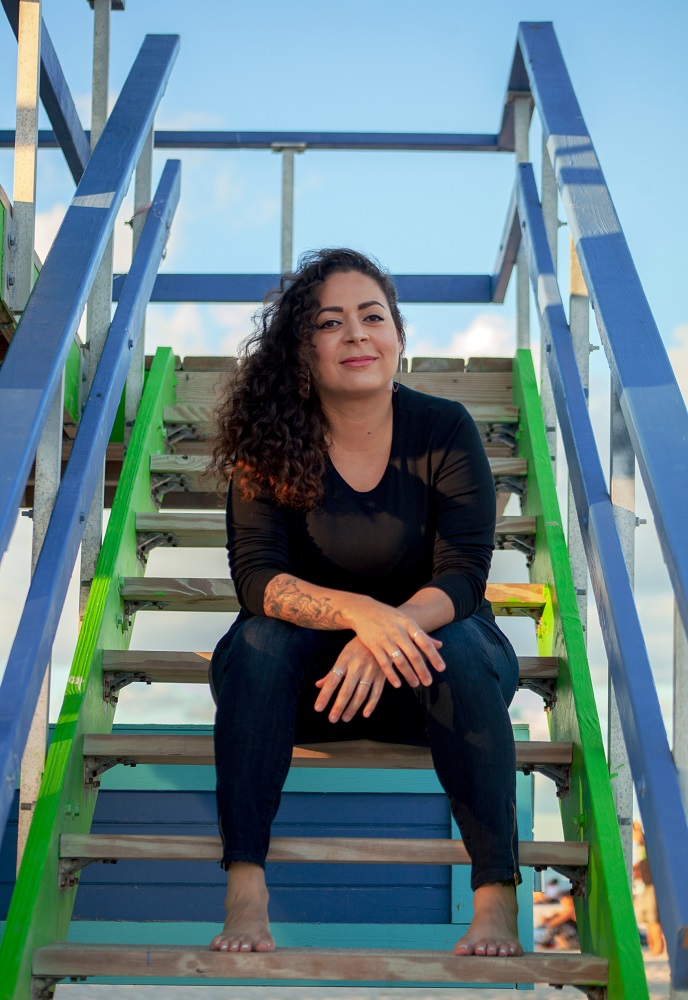 photo: Maria Esquinca
Jaquira Díaz is the author of Ordinary Girls (Algonquin Books), a Summer/Fall 2019 Indies Introduce selection. Her work has been published in Rolling Stone, the Guardian, Longreads, the Fader and T: The New York Times Style Magazine, and included in The Best American Essays 2016. She is the recipient of two Pushcart Prizes, an Elizabeth George Foundation grant and fellowships from the MacDowell Colony, the Kenyon Review and the Wisconsin Institute for Creative Writing. She lives in Miami Beach, Fla., with her partner, the writer Lars Horn.
On your nightstand now:
I just started Everywhere You Don't Belong, Gabriel Bump's debut novel, which is funny and heartbreaking and poignant, about a young black man from the South Side of Chicago who is learning to navigate what it means to be a black man in the world. Also, Maaza Mengiste's second novel, The Shadow King, an intricate and devastating book. I loved her first book, Beneath the Lion's Gaze, and I went back and re-read that one before picking this one up.
Favorite book when you were a child:
My favorite books (when I was about nine or 10) were Lewis Carroll's Alice's Adventures in Wonderland, Michael Ende's The Neverending Story, and L. Frank Baum's The Wonderful Wizard of Oz. I read these again and again, obsessively. Later, when I fell in love with horror, it was Stephen King's It. I was fascinated with this idea of kids running around fighting a demon clown who lived in the sewers. And then I discovered Shirley Jackson--The Haunting of Hill House and We Have Always Lived in the Castle. She was an evil genius and I adored her.
Your top five authors:
Octavia Butler. Toni Morrison. Sandra Cisneros. Julia Alvarez. Shirley Jackson.
Book you've faked reading:
Hemingway's A Moveable Feast. I had to take a Hemingway class in grad school, and halfway through the course, I gave up. After reading about 20 of his short stories and A Farewell to Arms, I decided I couldn't read another word. I got an A- in the course. Still don't regret it.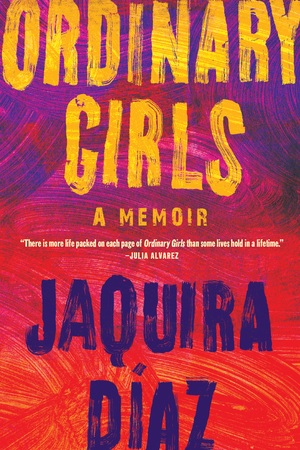 Book you're an evangelist for:
Keith S. Wilson's Fieldnotes on Ordinary Love, which is brilliant. This book is a marvel. Keith is one of my favorite poets. He examines love and race and power and the universe and masculinity and pigeons. Yes. Pigeons. Get this book!
T Kira Madden's Long Live the Tribe of Fatherless Girls. This book is heartbreaking and funny and honest. T Kira Madden writes about family and friendship, about grief, about how girls are vulnerable, and manages to do it with grace and generosity.
Book you've bought for the cover:
I first read Hanif Abdurraqib's They Can't Kill Us Until They Kill Us on my iPad and loved it. But the book still called out to me whenever I passed it on a shelf. Eventually I picked up a copy at Books & Books and read the whole thing from cover to cover in one sitting. It's even better when you can cradle it in your arms.
Book you hid from your parents:
My diaries.
Book that changed your life:
Hugo Margenat's Obras Completas. This was my father's book. He used to read it to me when I was little. It was the first time I encountered poetry, my first time reading something that felt expansive, important. It made me want to write. Eventually it became mine--I snatched it from him as a kid and never gave it back. I used to stay up late reading it, imagining myself a writer. I still have it on a shelf.
Favorite line from a book:
"When we were twelve we taught ourselves to fly," from John Murrillo's Up Jump the Boogie.
Five books you'll never part with:
Hugo Margenat's Obras Completas, obviously.
Toni Morrison's Beloved, which changed the way I thought about reading and writing and stories and what fiction can do.
John Murillo's Up Jump the Boogie. I'm not a poet, but this book also changed me. In these poems, I found my neighborhood, my friends, our music, our culture, our experiences. These poems changed everything I thought I knew about writing. They made me listen. They made me sing.
Keith S. Wilson's Fieldnotes on Ordinary Love. I already mentioned how much I love this book. Also, pigeons!
In the Shadow of the American Dream: The Diaries of David Wojnarowicz. This book is so beautiful you often forget you're reading Wojnarowicz's diaries. But also, the book was a gift from my partner, Lars, who gave it to me with my engagement ring the morning they proposed.
Book you most want to read again for the first time:
Toni Morrison's Beloved.
Books you're most excited to read:
Rachel Kaadzi Ghansah's forthcoming essay collection
Kristen Arnett's Mostly Dead Things
Carina del Valle Schorske's upcoming essay collection on Puerto Rico
Sarah M. Broom's The Yellow House
The World Doesn't Require You by Rion Amilcar Scott
Dominicana by Angie Cruz
Book Reviews
Fiction
Black Cat/Grove, $17, paperback, 464p., 9780802156983
Rescue Press, $18, paperback, 344p., 9780999418659
Mystery & Thriller
Turner, $16.99, paperback, 304p., 9781684423682
Science Fiction & Fantasy
Blackstone Publishing, $25.99, hardcover, 9781538556726
Biography & Memoir

Nan A. Talese/Doubleday, $29.95, hardcover, 368p., 9780385542456
Gallery Books, $18, hardcover, 320p., 9781982112547
University of Chicago Press, $19, paperback, 240p., 9780226493589
History
Potomac Books, $34.95, hardcover, 360p., 9781640120372
Essays & Criticism

Farrar, Straus and Giroux, $26, hardcover, 256p., 9780374284527
Travel Literature
Norton, $26.95, hardcover, 304p., 9780393609356
Children's & Young Adult

Candlewick, $17.99, hardcover, 32p., ages 5-up, 9780763686987
Little, Brown, $18.99, hardcover, 40p., ages 4-8, 9780316431279
Clarion, $17.99, hardcover, 32p., ages 4-7, 9781328695994

Hunter Killer:
A Pike Logan Novel
by Brad Taylor
isbn:

9780062886026


William Morrow
January 7, 2020



an exclusive interview with
bestselling author Brad Taylor

In HUNTER KILLER, Pike Logan is headed to a very dangerous part of the world called the Triple Frontier—the three-way border region where Argentina, Brazil, and Paraguay meet. The Taskforce books are certainly character driven but, how important is setting to your novels?
"I'm a reader first, and one of the reasons I read is to escape my world and enter another one. Because of that, I try to capture the settings in my novels away from what the usual reader knows. Give them a bit of an escape, as it were. Every culture is different, and every country is different, and exploring that on the page is something I strive to do. To that end, if I can get there, I most certainly do. Sometimes that's not possible, of course. For instance, I didn't travel to North Korea or Syria for portions of Daughter of War, but I did travel everywhere else in the novel."

ALSO FEATURED ON THE
the big THRILL…
| | | | | |
| --- | --- | --- | --- | --- |
| | | | | |
GOOD GIRLS LIE by J. T. ELLISON: In GOOD GIRLS LIE, bestselling author J. T. Ellison takes readers down the hallowed halls of The Goode School and shows us that even the privileged aren't safe from expert liars. Not everything is as it seems. Find out more here.
BOXING THE OCTOPUS by TIM MALEENY: Real life can get in the way of writing—and for author Tim Maleeny, "real life" created an almost 11-year gap between his last Cape Weathers novel, Greasing the Piñata, and his latest series installment, BOXING THE OCTOPUS. Read more at The Big Thrill.
LET JUSTICE DESCEND by LISA BLACK: Three days before a key election, US Senator Diane Cragin is electrocuted on her own doorstep—a shocking twist in an already brutal political race. More on Lisa Black's LET JUSTICE DESCEND in this The Big Thrill author interview. Find out more here.
DEEP STATE by CHRIS HAUTY: Chris Hauty's debut thriller, DEEP STATE, takes readers on an unnerving ride through a plot to overthrow the government and the fight to protect American democracy. Visit The Big Thrill for more.
THE LAST SISTER by KENDRA ELLIOT: Until Kendra Elliot immersed herself in Diana Gabaldon's work, she really didn't see herself as a writer. But after reading Gabaldon's books over and over she noticed how satisfied she felt—and that ignited her career. THE LAST SISTER is her 16th novel. Read more here.