From the Shelf
Stories of Survival and Exploration
With winter approaching, there seems no better time of year to get lost in these true stories of hardship, survival and courage.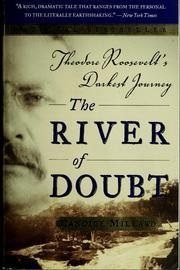 Following a humiliating loss in the 1912 presidential election, Theodore Roosevelt chose to scour himself through an expedition to a dangerous, uncharted tributary of the Amazon River. The River of Doubt: Theodore Roosevelt's Darkest Journey (Broadway, $17) is Candice Millard's account of that brutal undertaking. In the company of his son Kermit and Brazilian explorer Cândido Mariano da Silva Rondon, Roosevelt contended with rushing rapids, tropical diseases and starvation, and very nearly lost his life.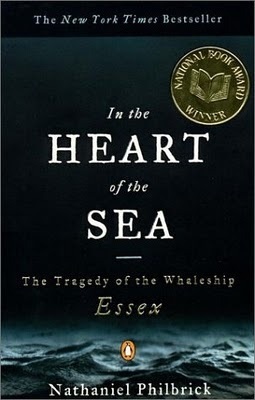 In November of 1820, a massive sperm whale attacked and sank the whaleship Essex, stranding the ship's crew thousands of miles from land in the Pacific Ocean. Nathaniel Philbrick's In the Heart of the Sea: The Tragedy of the Whaleship Essex (Penguin Press, $18) recounts how the survivors endeavored to sail all the way to the western coast of South America in three small boats, while enduring starvation and dehydration.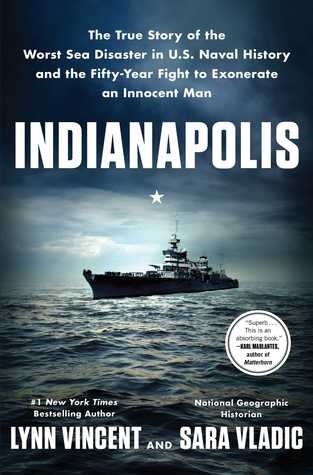 On July 30, 1945, the U.S.S. Indianapolis sank in minutes after being torpedoed by a Japanese submarine. Nearly 900 men entered the water, and over the next four days the survivors battled exposure, starvation, dehydration and shark attacks. Indianapolis: The True Story of the Worst Sea Disaster in U.S. Naval History and the Fifty-Year Fight to Exonerate an Innocent Man (Simon & Schuster, $18) by Lynn Vincent and Sara Vladic tells not only that story but also the decades-long legal battle to clear the name of the ship's captain.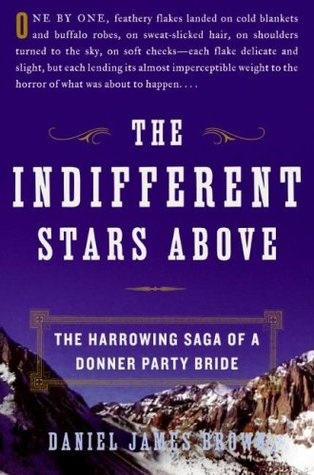 In The Indifferent Stars Above: The Harrowing Saga of a Donner Party Bride (Morrow, $14.99), Daniel James Brown focuses on 21-year-old Sarah Graves, who sets out for California in the spring of 1846 with her family and newlywed husband. Beset from the start, they arrive in the Sierra Nevada just as the first heavy winter snows begin. With the way impassable and food running out, things quickly turn to horror. --Alex Mutter, associate editor, Shelf Awareness

In this Issue...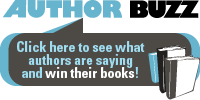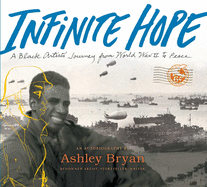 Renowned author and illustrator Ashley Bryan tells the story of how art carried him through the horrors of war and racism during World War II in this memoir for young readers.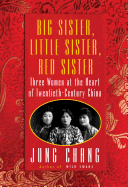 In her history of the famed Soong sisters, Jung Chang explores the lives of three fascinating women and the turbulent times that they made their own.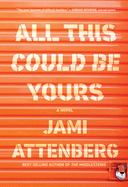 This sharp, soulful exploration of familial dysfunction examines the threads connecting a corrupt, dying man to his wife and children, who must reckon with his hold over their lives.
Review by Subjects:
Fiction ⋅ Mystery & Thriller ⋅ Food & Wine ⋅ Biography & Memoir ⋅ History ⋅ Social Science ⋅ Children's & Young Adult
Upcoming Events
Jan Brett - The Tale of the Tiger Slippers
12/12/2019 - 5:30PM
A Reimagining of a Powerful Middle Eastern Folk Tale, a Picture Book Talk & Signing CLICK HERE TO BUY TICKETS! Jan Brett is the beloved bestselling author and artist of many books for children including The Mitten, The Hat, and The Mermaid. Brett will discuss and sign The Tale of the Tiger Slippers ($18.99 Putnam Books for Young Readers), which reimagines a powerful Middle Eastern folk tale that celebrates hard work and appreciating your roots. Set in India, this...
Book Candy
The Evolution of the English Village Mystery
CrimeReads traced "the evolution of the English village mystery, after the Golden Age."
---
"Lost writings from Zora Neale Hurston have been found and will be released in 2020," MadameNoire reported.
---
"Can you name the answers to these language questions?" Mental Floss challenged.
---
All 435 Illustrations from John James Audubon's Birds of America "are available for free download," Colossal noted.
---
"For sale: Jane Austen's wince-inducing descriptions of 19th-century dentistry." (via Atlas Obscura)

Great Reads
Rediscover: The Country of the Pointed Firs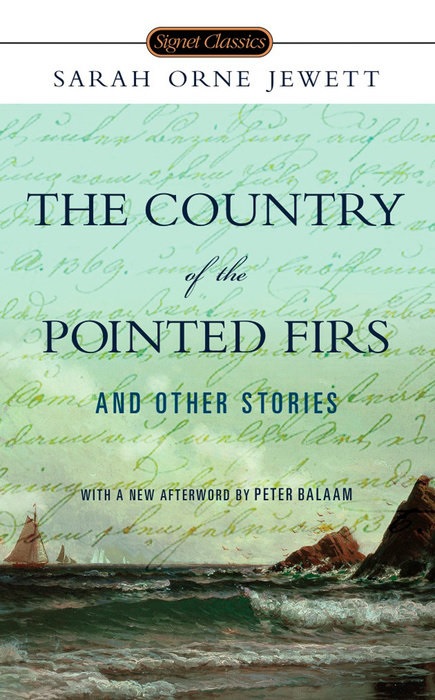 Sarah Orne Jewett (1849-1909) was born in the coastal town of South Berwick, Maine. This area and its surrounding fishing villages inspired many of her books, which are considered important works of American literary regionalism. Jewett published her first story at age 19 in the Atlantic Monthly. Her vignettes of New England country life coincided with a contemporary interest in local color. A Country Doctor (1884) is a novel based on Jewett's relationship with her doctor father, and follows a woman eschewing family life for a medical career. The Life of Nancy (1895) collects 11 short stories set in the Maine countryside and fishing towns, each story united by nostalgia and a need for tradition.

The Country of the Pointed Firs (1896) is Jewett's best-known work. A Boston woman travels to the seaside village of Dunnet, Maine, to finish her book. Jewett uses this narrator as a framing device to tell the stories of the town's inhabitants, from a widow herbalist to a sea captain and a woman who believes she is Queen Victoria's twin. The Country of the Pointed Firs is available from Signet with an introduction by author Anita Shreve ($6.95, 9780451531445). --Tobias Mutter
The Writer's Life
In Celebration of National Indigenous Heritage Month
November is National "American Indian" Heritage Month. After decades of effort on the part of Indigenous peoples to have a time set aside specifically to honor the work and significant contributions of "first Americans," President George H.W. Bush approved a joint resolution to designate November 1990 "National American Indian Heritage Month." Each year since 1994, similar resolutions have been made under different names, such as "Native American Heritage Month" and "National American Indian and Alaska Native Heritage Month." We're excited to highlight a handful of excellent, recently published children's and teen books by Indigenous creators.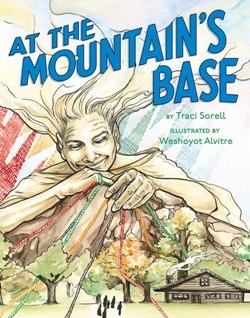 With spare and poetic text, Traci Sorell (We Are Grateful: Otsalhilega) presents in At the Mountain's Base (Kokila/Penguin, $17.99) a family of women bound together by love. Tucked away in a cottage "at the mountain's base," the women weave threads of red, gold, green and black into a wonderful fabric. While they create the tapestry, they pray for the return of one of their own--a pilot in the Women's Airforce Service. As their invocation rises up, readers get a glimpse of their loved one, soaring in her plane. Weshoyot Alvitre's majestic watercolor-and-ink illustrations include small portraits bordered by white space and framed with the ever-present thread, as well as sweeping, full-spread paintings with changing points of view. These choices, along with the ample use of white space, give the art an expansive feel, immersing readers ages four to eight in the movement of the wind that brings the pilot closer to home. The lovely earthtones give way to more verdant and vivid hues as the pacing climaxes with a close-up of the missing family member.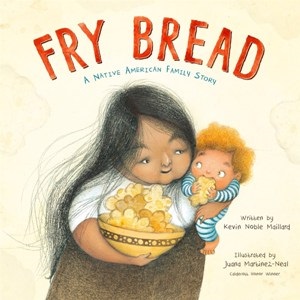 While Fry Bread: A Native American Family Story (Roaring Brook Press, $18.99) is recommended for audiences ages three to six, it's undoubtedly a book that will last on shelves well into readers' double digits. Kevin Noble Maillard--Syracuse University law professor and a member of the Seminole Nation, Mekusukey band--has effectively written two books for multiple age groups. The first two-thirds is an affecting picture book that features family and friends gathering, creating and enjoying fry bread together. Glorious double-page spreads introduced by pithy, resonating phrases define the Native American staple: "FRY BREAD IS FOOD," "FRY BREAD IS HISTORY." Caldecott Honor and Pura Belpré-awarded illustrator Juana Martinez-Neal's (Alma and How She Got Her Name) artistry revels in the faces of those making and enjoying the treat. Then comes book two, which augments the simple, sincere verses with illuminating edification for older readers. Maillard's expansive author's note follows across nine pages, amplifying every descriptive "Fry bread is..." phrase with context, background, history and personal tidbits. Remarkable in balancing the shared delights of extended family with onerous ancestral legacy, Maillard both celebrates and bears witness to his no-single-recipe-fits-all community.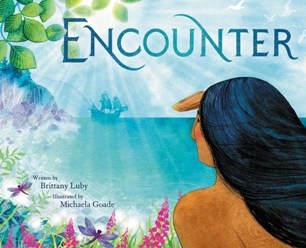 Using French explorer Jacques Cartier's journal as inspiration, Canadian historian and Anishinaabekwe Brittany Luby imagines the 16th-century meeting of a French sailor and a Stadaconan fisherman in Encounter (Little, Brown Books for Young Readers, $18.99). Despite the men's superficial differences, nature's creatures spy their deep commonalities. They eat, swim and play together; their harmonious introduction needs no words, as the wildlife so keenly observes: " 'You are not so different,' squawked Seagull, who flew overhead. 'You both cast long shadows.' " Encounter is made even more vibrant by the dazzling mixed-media illustrations of Tlingit citizen Michaela Goade (Shanyaak'utlaax: Salmon Boy). Her radiant colors and strong textures draw the eye, and her changing perspectives mirror Luby's themes. Readers see the men's relationship from the sky like the seagull or from below like the mouse, as the detailed art reinforces the value of viewpoint and heightens the beauty of this encounter in a way that will certainly delight young audiences ages four to seven.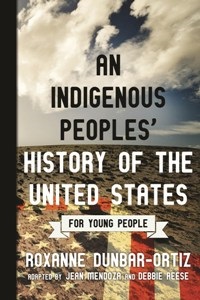 Curriculum specialists Debbie Reese and Jean Mendoza have adapted Indigenous human rights activist Roxanne Dunbar-Ortiz's acclaimed academic text An Indigenous People's History of the United States (Beacon Press, $18.95) for readers ages 12 and up. This history of North America's native tribal nations rebuts popular cultural beliefs and offers a different perspective on the colonization of what became known as the United States. The adaptation spans centuries of resistance by the more than 500 federally recognized nations in the U.S. Even though the authors cover vast numbers of people and a long period of time, this account of the country's evolution remains gripping, tightly written and packed with facts traditional textbooks and historical accounts neglect to cover. Reese and Mendoza provide innovative opportunities for important reflection on the material; maps, illustrations and photographs offer more ways to interact with the text, and a list at the conclusion suggests further reading.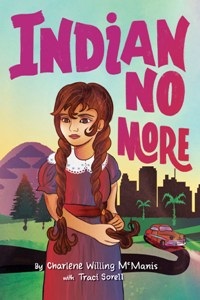 In August 1954, the president signs a law that says Regina Petit and the other citizens of her Umpqua tribe living on the Grand Ronde Indian Reservation in Oregon are "no longer Indian" in debut author Charlene Willing McManis and Traci Sorell's Indian No More (Tu Books/Lee & Low, $18.95, ages 9-12). Though her Chich (grandmother) urges Regina's father to fight, in 1957 he signs up for the Indian Relocation Program: "Daddy called it an opportunity... Chich called it an eviction." The program moves the family to Los Angeles, Calif., where Regina interacts with non-Native neighbors and classmates for the first time. Extensive back matter informs readers that Indian No More was based on the experiences of Charlene Willing McManis's family. Like Regina, Willing McManis was Umpqua and a member of the Confederated Tribes of Grand Ronde; after her death, the book was completed by Sorell (At the Mountain's Base, above), a citizen of the Cherokee Nation, with the help of editor and fellow Cherokee woman Elise McMullen-Ciotti. A heartfelt and meditative exploration of an often-undiscussed time in recent U.S. history, Indian No More wades through complex issues of identity and culture and the preservation of both.
Book Reviews
Fiction

Houghton Mifflin Harcourt, $26, hardcover, 304p., 9780544824256
Ecco, $26.99, hardcover, 272p., 9780062913463
Mystery & Thriller
Ecco, $26.99, hardcover, 320p., 9780062868855
Food & Wine
Abrams Press, $30, paperback, 400p., 9781419736353
Biography & Memoir
Penguin Press, $30, hardcover, 384p., 9780735223073
Farrar, Straus and Giroux, $28, hardcover, 352p., 9780374268091
Simon & Schuster, $28.99, hardcover, 400p., 9781476793108
History

Knopf, $30, hardcover, 400p., 9780451493507
Social Science
MIT Press, $29.95, hardcover, 424p., 9780262043137
Gallery Books, $27, hardcover, 256p., 9781982129330
Children's & Young Adult

Caitlyn Dlouhy/Atheneum, $21.99, hardcover, 112p., ages 10-up, 9781534404908
Crown, $17.99, hardcover, 368p., ages 14-up, 9781984829627
Putnam, $18.99, hardcover, 448p., ages 12-up, 9781524738174
--- SPECIAL ADVERTORIAL OFFERINGS ---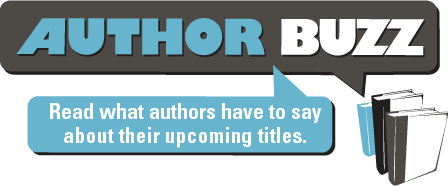 Dear Reader,

In a small Pennsylvania city, one girl goes missing just as another is found alive. With more questions than answers, Detective Josie Quinn follows the dark trail of a series of disappearances in her community. Every turn in her investigation uncovers a disturbing new revelation and brings her closer to unearthing her town's most shocking secret. Two things are certain: a killer is on the loose and Josie can trust no one.

I'm giving away five copies of Vanishing Girls. Email me at lisareganauthor@hotmail.com to win!

Lisa Regan
www.lisaregan.com








Publisher:
Grand Central Publishing

Pub Date:
November 26, 2019

ISBN:
9781538734117

List Price:
$12.99

Dear Reader,

This year, I had the opportunity to return to one of my favorite couples, JC and Gwen from the Found Duet. They are some of my most passionate characters, people who love each other deeply and have the most amazing chemistry. The foundation of their relationship's based on sex, so I wondered what came next—after kids, when life got the better of them.

The Open Door is a sexy, edgy, very romantic story about two people, anchored to each other in every way, who want to explore the boundaries of that love in a safe, consensual setting. I loved writing it and think you'll love reading it. It's not necessary to have read anything previously.

Please write to 1001DarkNights@gmail.com to enter to win one of five copies.

Xoxo,
Laurelin
www.1001darknights.com/authors/collection-six/laurelin-paige-the-open-door
www.laurelinpaige.com




Publisher:
Evil Eye Concepts, Inc.

Pub Date:
December 2, 2019

ISBN:
9781948050982

List Price:
$2.99

Dear Reader,

Success carries a price, as everyone in this sweeping, suspenseful saga must learn. Boundaries are tested, souls are opened, passions are unlocked…enemies are confronted. Every story brings a journey of scandals, a ride of revelations, and a push to the very limits of what hearts can endure—until every character learns fate's biggest lesson of all.

The edge is just the beginning.

Email robyn@waterhousepress.com with "Shark's Edge Giveaway" in the subject line for a chance to win one of 10 paperback copies of Shark's Edge!

Angel Payne and Victoria Blue
www.angelpayne.com
www.victoriablue.com
www.waterhousepress.com/collection/book/sharks-edge








Publisher:
Waterhouse Press

Pub Date:
December 10, 2019

ISBN:
9781642631494

List Price:
$15.99

Dear Reader,

I am giving away five signed copies of my debut novel, Against the Wind. Please write to jimtilley@optonline.net to enter the contest.

Ralph and Lynn, former high school and college sweethearts, are brought together again on opposite sides of a wind farm dispute. Ralph is an environmentalist at heart, but he has built a successful law practice representing big energy companies. Lynn, a high school English teacher separated from her politically ambitious French-Canadian husband Jean-Pierre, struggles to raise her brilliant transgender grandchild Jules. The stories of these four characters and two others thread together to weave what Kirkus Reviews has called a "resonant and humanistic novel."

Jim Tilley
www.jimtilley.net








Publisher:
Red Hen Press

Pub Date:
September 24, 2019

ISBN:
9781597098359

List Price:
$16.95