From the Shelf
Reading for Asian/Pacific American Heritage Month
May is Asian/Pacific American Heritage Month. The date was chosen to "commemorate the immigration of the first Japanese to the United States on May 7, 1843, and to mark the anniversary of the completion of the transcontinental railroad on May 10, 1869." The Month started in 1978 as a week-long observance and was expanded to a month in 1990. Here are a few of the truly top-notch books published by Asian/Pacific Americans in 2019.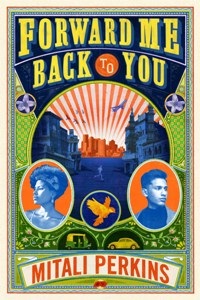 In Forward Me Back to You by Mitali Perkins (Farrar, Straus and Giroux, $17.99, 14-up) two teens join their youth group's trip to Kolkata. Mitali Perkins expertly explores personal identity, faith, trauma and ethnocentrism, cleverly using a dual narrative to depict both points of view.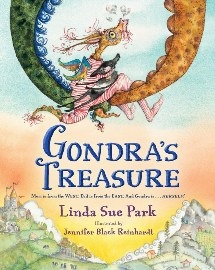 Gondra's Treasure by Linda Sue Park, illus. by Jennifer Black Reinhardt (Clarion, $17.99), is a picture book for readers ages 4-8 that features a young dragon whose "mom's family comes from the West" and "dad's family is from the East."; Gondra "was born somewhere in the middle." Young Gondra playfully explores the benefits of inheriting two very different cultural backgrounds.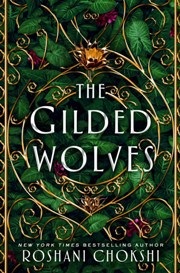 The Gilded Wolves by Roshani Chokshi (Wednesday Books/Macmillan, $18.99, 12-up) features a band of teens on the fringes of society working together to pull off Mission Impossible-level stunts to regain pieces of an inheritance. Chokshi's third-person narrative slips easily between the teens' perspectives, granting the reader inside views of their loving, tangled lives.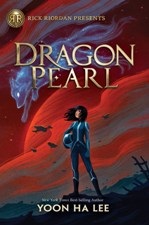 In Yoon Ha Lee's middle-grade novel, Dragon Pearl (Rick Riordon Presents/Disney-Hyperion, $16.99), 13-year-old Min, who is a fox spirit ("gumiho") masquerading as a human, has a dismal life. Her family receives word that her brother has been accused of deserting the army to search for the Dragon Pearl, "a mystical orb with the ability to... transform"--or destroy--"an entire planet in a day." Min won't allow her brother's reputation to be ruined; she runs away to find Jun and clear his name.

In this Issue...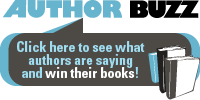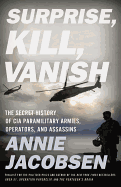 A Pulitzer Prize finalist offers an enlightening look at the darkest reaches of the CIA.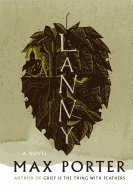 This novel about family, the power of the woods and the creative spirit, centered on a special young boy, will charm any reader.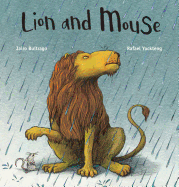 The timeless fable of an unlikely friendship between lion and mouse gets a modern makeover in this charming picture book.
Review by Subjects:
Fiction ⋅ Romance ⋅ Biography & Memoir ⋅ History ⋅ Psychology & Self-Help ⋅ Sports ⋅ Parenting & Family ⋅ Children's & Young Adult

Upcoming Events
08/23/2019 - 7:00PM
The Inside Story of Stevie Ray Vaughan, a Biography Book Talk & Signing Alan Paul is a writer for Guitar World magazine and author of Big in China: My Unlikely Adventures Raising a Family, Playing the Blues, and Becoming a Star in Beijing. He will discuss and sign Texas Flood: The Inside Story of Stevie Ray Vaughan ($29.99 St. Martin's Press), the first definitive biography of guitar legend Stevie Ray Vaughan, with an epilogue by Jimmie...
Ron Frederick - Loving Like You Mean It
08/23/2019 - 7:00PM
Use the Power of Emotional Mindfulness to Transform Your Relationships, a Book Talk & Signing Ronald J. Frederick, PhD, co-founded the Center for Courageous Living in Beverly Hills, California, and is the author of the bestselling book Living Like You Mean It. He will be in conversation with Denver area psychotherapist and workshop organizer, Lia Jones, and signing Loving Like You Mean It: Use the Power of Emotional Mindfulness to Transform Your Relationships ($17.95 ...
#DemigodGoals: Myths, Magic, and Mayhem 2019
08/24/2019 - 2:00PM
CLICK HERE TO REGISTER! Join Tattered Cover Book Store as we celebrate the Second Annual Myths, Magic, & Mayhem: a #DemigodGoals event! Each self-paced activity highlights a different aspect of Camp Half-Blood: ● Wheel of Destiny - Spin the wheel to determine which of the eight Camp Half-Blood cabins you belong to. ● Eyes of a God Scavenger Hunt - Pick up a clue sheet and find the hints located around the store. ● It's All Greek to Me! - Learn to write your name using the Greek alphabet...
Pascha Adamo - How We Came to Be
08/24/2019 - 10:30AM
Cece and Roxy, a Meet the Author Storytime, Board Book Talk & Signing Author Pascha Adamo will discuss and sign How We Came to Be (Cece and Roxy) ($9.95 Mascot Books). Best friends from the start, CeCe and Roxy become family when Roxy's owner must go away. Meet the family who fosters this lovable pit bull. ABOUT THE EVENT This event is free and open to the public. End time may vary. Can't make it to the event? To request an autographed copy,...
Michael Kranish - The World's Fastest Man
08/25/2019 - 2:00PM
The Extraordinary Life of Cyclist Major Taylor, America's First Black Sports Hero, a Biography Book Talk & Signing Michael Kranish is a bestselling author and investigative political reporter for The Washington Post. He will discuss and sign The World's Fastest Man: The Extraordinary Life of Cyclist Major Taylor, America's First Black Sports Hero ($30.00 Scribner). In the tradition of The Boys in the Boat and Seabiscuit, this is a...
08/26/2019 - 7:00PM
Improvisations on National Parks, Driving to Russia, Not Marrying a Ranger, the Language of Heartbreak, and Other Natural Disasters, a Book Talk & Signing Cassandra Kircher was in her twenties when she was hired by the National Park Service, landing a life that allowed her to reinvent herself. She was assigned as the first woman to patrol an isolated backcountry district of Colorado's Rocky Mountain National Park. Kircher will discuss and sign Far Flung: Improvisations on...
Book Candy
Turning Kids into Bookworms

Great Reads
Rediscover: The Longest Day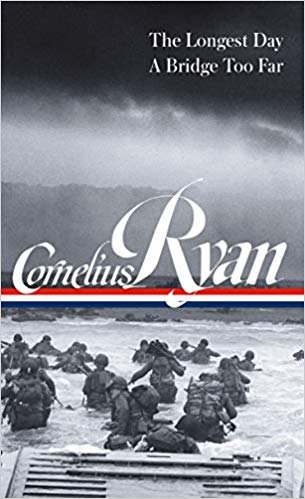 This coming June 6 marks the 75th anniversary of D-Day, when U.S., British and Canadian forces landed in Nazi-occupied France. In the run-up to this milestone, Shelf Awareness will periodically highlight some of the best books about D-Day.

Irish writer Cornelius Ryan became a war correspondent for the Daily Telegraph in 1941. He flew on 14 bombing missions with the Eighth and Ninth United States Army Air Forces before transferring to General George Patton's Third Army for the remainder of the war. After working for several American magazines, Ryan toured Normandy in 1949, where he became interested in writing a comprehensive history of Operation Overlord. He conducted more than 3,000 interviews in the U.S., Canada, Great Britain, France and Germany. In 1959, Ryan published The Longest Day, which has since sold tens of millions of copies. Ryan helped adapt his book into a 1962 film with an enormous ensemble cast including John Wayne, Sean Connery and Henry Fonda. On May 7, Library of America published Cornelius Ryan: The Longest Day, A Bridge Too Far ($45, 9781598536119), which includes Ryan's history of the disastrous Operation Market Garden paratrooper attack on Nazi-occupied Holland in September 1944. --Tobias Mutter

The Writer's Life
Helen Hoang: Writing from the Heart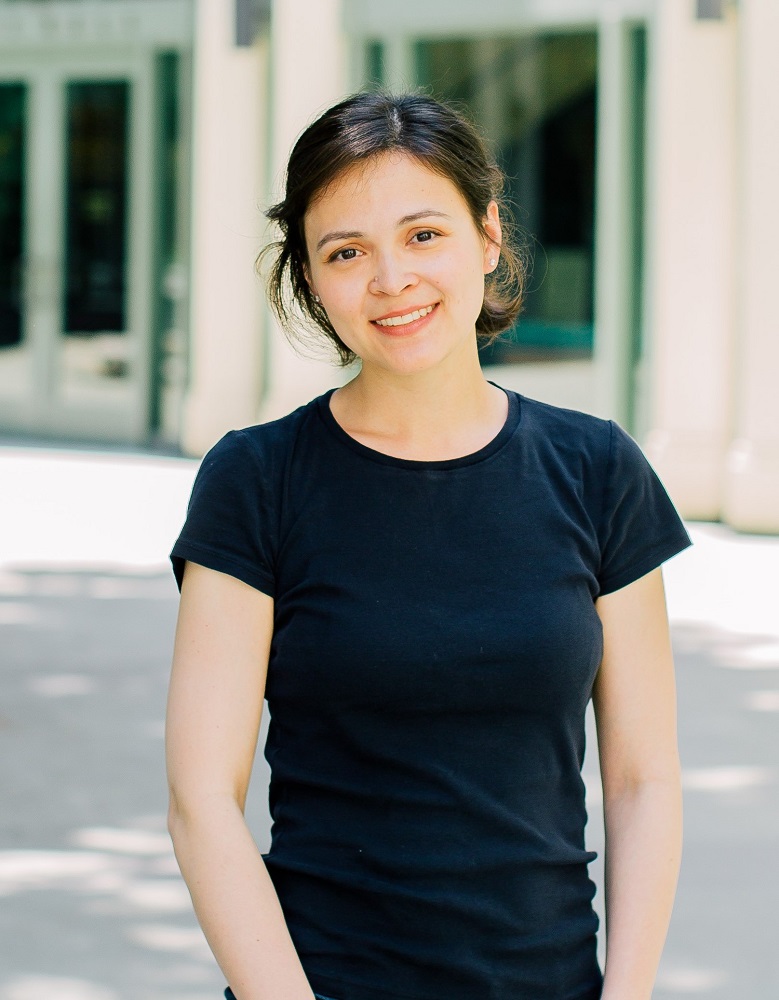 photo: Eric Kieu
Helen Hoang's debut novel, The Kiss Quotient, became a breakout hit and has been acquired by Pilgrim Media Group for a movie adaptation. The Kiss Quotient features a brilliant female lead with autism--which Hoang also has--and a half-Vietnamese man as her love interest. Her follow-up, The Bride Test (reviewed below), is about a young Vietnamese woman who's brought to the U.S. by a Vietnamese American mother to be a potential bride for her son, who has autism. In her author's note, Hoang mentions that her heroine is inspired by Hoang's mother, a former refugee and successful businesswoman, who died recently. Hoang lives in San Diego, Calif., with her husband and two children.
Did your mother read The Bride Test? How would she feel about Co Nga arranging a mail-order bride for her son?
No, my mom never read the book. But my aunt tried to arrange a wife for my cousin in much the same manner [as in the book], and my mom was aware of that. She didn't seem to think the idea was that outrageous, though she was never very meddling with my siblings and me.
Why does Co Nga choose a woman from Vietnam, instead of from the local Vietnamese American community?
When my aunt tried to arrange a marriage for my cousin, she spoke to women in Vietnam because the Vietnamese American women she knew were either uninterested in her son or not up to her standards in terms of Vietnamese traditions and values.
What were some of those standards? And what was the result of her matchmaking attempt?
My aunt was unsuccessful. Her son refused to meet any of the girls she liked from Vietnam and eventually married a Filipino American woman. I believe my aunt wanted him to marry a woman who spoke Vietnamese and would be a homemaker, practice Buddhism, give her grandbabies and take care of her in her old age.
Your author's note says you interviewed your mother for this book, about her experiences growing up poor and as a refugee. What was the biggest revelation for you during these discussions?
Growing up, I often thought my mom worked not only by necessity, but by preference. In other words, she was a workaholic, and sometimes I was resentful of this when I was a kid. Through these conversations with my mom, I came to understand why she was compelled to work so much and I could better empathize with her. Not only was she providing for her family and achieving financial security, but she was earning her own sense of worth. That was a heartbreaking realization for me--that her sense of self-worth was dependent on how much money she made.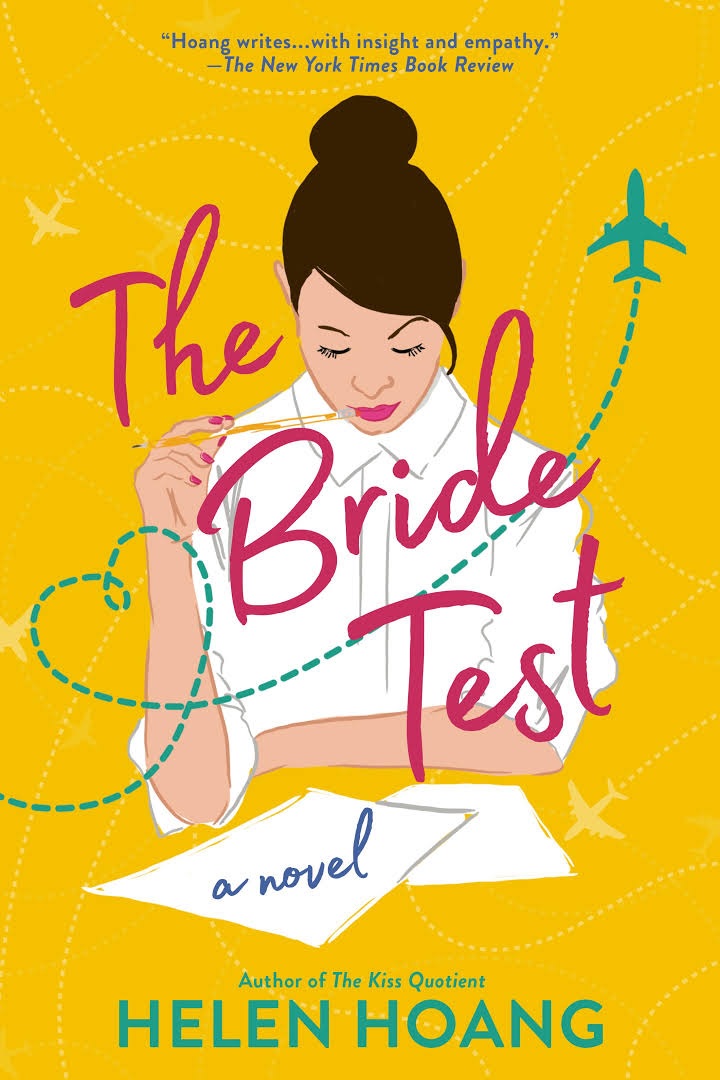 How has writing about people with autism helped you in your daily life?
Writing these books has helped me process and understand my own autism so I can better communicate my needs with the people in my life and advocate for myself. For example, as I wrote The Bride Test, I finally understood why I bring books to wedding receptions. These events are truly overwhelming to me and because I'm physically trapped there, I read in an attempt to escape into myself. Now, instead of bringing a book to a wedding, I can leave early and it's okay. People don't get angry.
Your voice, and those of your protagonists, are specific and distinctive. What have readers told you they've learned the most from your characters and stories?
From what I've heard, it is eye-opening to read from the perspective of an autistic and/or Asian/Asian American character.
Regarding the autistic perspective, readers have appreciated learning about the specific challenges facing autistic people, but they've also remarked that they were happy to see that people of different neurotypes still have the same basic emotional needs and insecurities as most everyone else.
Khai's brother, Quan, has made memorable appearances in The Kiss Quotient and The Bride Test, and steps onto center stage in your next book. Anything juicy you can tell us about it?
I've been conceptualizing Quan's book as a gender-swapped Sabrina, where instead of the chauffeur's daughter and the two rich brothers, we have the chef's son and the two rich sisters.
You write about people who rarely get to be the center of Westernized stories. The couple in The Kiss Quotient include a half-Vietnamese man (who's hot, not nerdy!), while both leads in The Bride Test are of Vietnamese descent, though one is half Vietnamese. Any plans for a story with both leads being 100% Vietnamese?
For Quan's book, his love interest is Chinese American, and my next contracted books after this feature Michael's sisters from The Kiss Quotient, who are all half Vietnamese. I don't have specific plans to write a story with both leads being 100% Vietnamese, but I'm certainly not ruling it out. --Elyse Dinh-McCrillis, blogger at Pop Culture Nerd
Book Reviews
Fiction

Graywolf Press, $24, hardcover, 160p., 9781555978402
Knopf, $25.95, hardcover, 288p., 9780525655282
Romance
Berkley, $15, paperback, 320p., 9780451490827
Jove/Berkley, $7.99, mass market paperbound, 368p., 9780451492357
Biography & Memoir
Norton, $25.95, hardcover, 256p., 9780393635881
Amistad, $25.99, hardcover, 480p., 9780062917393
History

Little, Brown, $30, hardcover, 560p., 9780316441438
Psychology & Self-Help
HarperOne, $25.99, hardcover, 272p., 9780062872395
Sports
Pegasus Books, $27.95, hardcover, 272p., 9781643131351
Parenting & Family
Houghton Mifflin, $28, hardcover, 336p., 9781328974860
Children's & Young Adult

Groundwood Books, $18.95, hardcover, 32p., ages 4-7, 9781773062242
First Second/Macmillan, $24.99, hardcover, 304p., ages 14-up, 9781250312846
Lee & Low Books, $18.95, hardcover, 32p., ages 5-8, 9781620148372
--- SPECIAL ADVERTORIAL OFFERINGS ---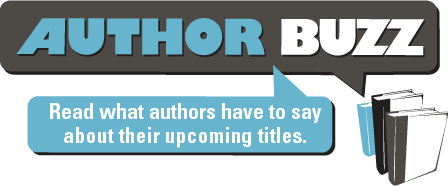 Dear Reader,

From the moment I heard Elton John's epic song "KISS THE BRIDE," I knew I had to write a story to the lyrics—except in my case there had to be a happy ending!

Ryder Hammond was so certain he'd done the right thing ending things with Sierra Knight. Until he saw the woman he loved standing at the altar about to marry another man. What happens next is a journey of the heart, and I can't wait for you to read their story!

Please write to 1001DarkNights@gmail.com to win one of five copies.

Carly Phillips
www.1001darknights.com/authors/collection-six/carly-phillips-take-the-bride
www.carlyphillips.com




Publisher:
Evil Eye Concepts, Inc.

Pub Date:
May 28, 2019

ISBN:
9781948050968

List Price:
$2.99

Dear Reader,

Both M.J and I have been fascinated with the Cathar religion for a long time. It once existed all across southern France, challenging Rome and attracting the faithful. Eventually, in 1208, the Pope declared the Cathars heretics and ordered a crusade—the first where Christians killed Christians—and tens of thousands were slaughtered, the Cathars all but exterminated.

For my recurring heroine, Cassiopeia Vitt, her lifelong passion has been the building of an authentic French castle, using only materials and techniques from the 13th century. But when an ancient Book of Hours is unearthed at the site—whose pages hold the key to the hiding place of the most precious object the Cathars ever possessed—everything changes. And when more than one person becomes interested in that secret—in particular a thief and a billionaire—the hunt is on.

Through the medieval streets of the walled-city of Carcassonne, up the slopes to the crest of mysterious Montségur, then down into a forgotten cavern beneath the Pyrenees, Cassiopeia is drawn deeper and deeper into a civil war between two people obsessed with revenge and murder.

We hope you enjoy our latest Cassiopeia Vitt adventure.

Please write to 1001DarkNights@gmail.com to win one of five copies.

Steve Berry
M.J. Rose
www.steveberry.org
www.mjrose.com




Publisher:
Evil Eye Concepts, Inc.

Pub Date:
August 20, 2019

ISBN:
9781970077452

List Price:
$3.99

Dear Reader,

"The truth will set you free...but the lies will keep you safe."

For fans of BIG LITTLE LIES comes a darkly twisty novel about friendship, motherhood, and the secrets we keep. What happens when four girlfriends leave their children to go on a fun weekend getaway—and one of them ends up dead? In the aftermath, lines will be crossed, truths will surface, and the ultimate question of how far we go for the ones we love will finally (maybe?) be answered.

Email me at reafreyauthor@gmail.com with the subject BOOK CLUB GIVEAWAY for a chance to win one of five copies.

Rea Frey
www.reafrey.com








Publisher:
St. Martin's Griffin

Pub Date:
August 6, 2019

ISBN:
9781250166449

List Price:
$16.99