From the Shelf
The Grown-Up Years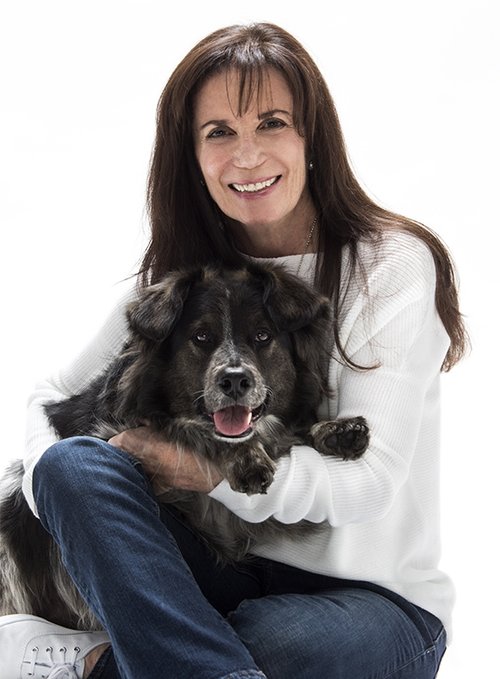 Cathy Guisewite created a beloved cartoon strip, "Cathy," that was syndicated for 34 years. I vividly remember some of them adorning office corkboards of mine. Many women saw themselves in "Cathy," as she dealt with weight, hair, career and parents. Now Guisewite has written Fifty Things That Aren't My Fault: Essays from the Grown-up Years (Putnam, $27), with the same humor, heart and compassion she showed in her strip.
She decides to join a new gym, with high hopes that sleek muscles and a flat stomach are within reach, until her trainer starts talking about bone health, cardiovascular integrity, joint mobility: "[I]t's demoralizing when all the improvements for my age bracket are for the interior, not the exterior."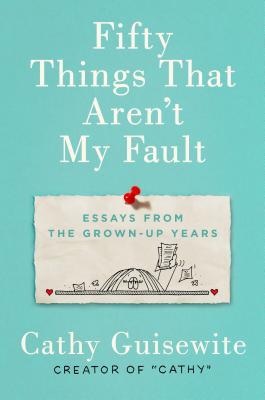 Guisewite riffs on the joys of going to the mall for camaraderie and possibility, while hoping finally to find a top to match the perfect skirt she's had for 11 years; she wonders what it would be like to be male and not worry about work make-up, date make-up, break-up make-up. No make-up.
She and her friends gather around a dinner table to discuss their aging parents. Bonded since their children began kindergarten, they recall the feeling of knowing nothing as their babies sallied forth. They feel the same lack as their aging parents can no longer sally forth. And now they are wondering how soon they can answer their college kids' texts without seeming too needy.
This is a book that will wrap around you like a hug, with warmth, wit and wisdom. From the futility of finding jeans that fit out of dozens in the closet to the equally futile task of trying to get parents to learn TiVo, every woman and every daughter will recognize themselves in Fifty Things That Aren't My Fault. --Marilyn Dahl, Shelf Awareness
In this Issue...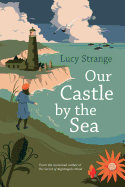 In this middle-grade novel, "mousy" 12-year-old Pet's life is ripped apart by the start of World War II, but she becomes "someone extraordinary" to save her family.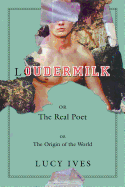 In the wickedly funny novel, a wealthy jock cheats his way into a prestigious poetry fellowship while his fellow students negotiate the complexities of art and language.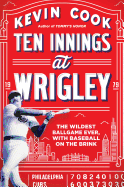 The histories (and futures) of some of Major League Baseball's greatest franchises and players are relayed through a record-setting, extra-inning 1979 game.
Review by Subjects:
Fiction ⋅ Mystery & Thriller ⋅ Biography & Memoir ⋅ Sports ⋅ Pets ⋅ Performing Arts ⋅ Poetry ⋅ Children's & Young Adult

Upcoming Events
Maureen Johnson - The Hand on the Wall
01/23/2020 - 7:00PM
Truly Devious #3, Young Adult Book Talk & Signing Maureen Johnson is the bestselling author of several novels, including 13 Little Blue Envelopes and the Truly Devious series. Johnson will discuss and sign The Hand on the Wall (Truly Devious #3) ($18.99 Katherine Tegen Books), the witty and pulse-pounding conclusion to the Truly Devious series as Stevie Bell solves the mystery that has haunted Ellingham Academy for over 75 years. Ellingham...
Scott Ortman - Painted Reflections
01/24/2020 - 7:00PM
Isomeric Design in Ancestral Pueblo Pottery, an Art Book Talk & Signing Scott Ortman, author and contributor, will discuss and sign Painted Reflections : Isomeric Design in Ancestral Pueblo Pottery ($37.50 Museum of New Mexico Press). This book examines design in Ancestral Pueblo pottery from various museum collections in the Southwest. The concept of isomeric design is based on an analogy with isomers in chemistry, which refers to compounds that are chemically...
Book Candy
A Tale of Many Cities: Dickens & Travel

Great Reads
Rediscover: Tinkers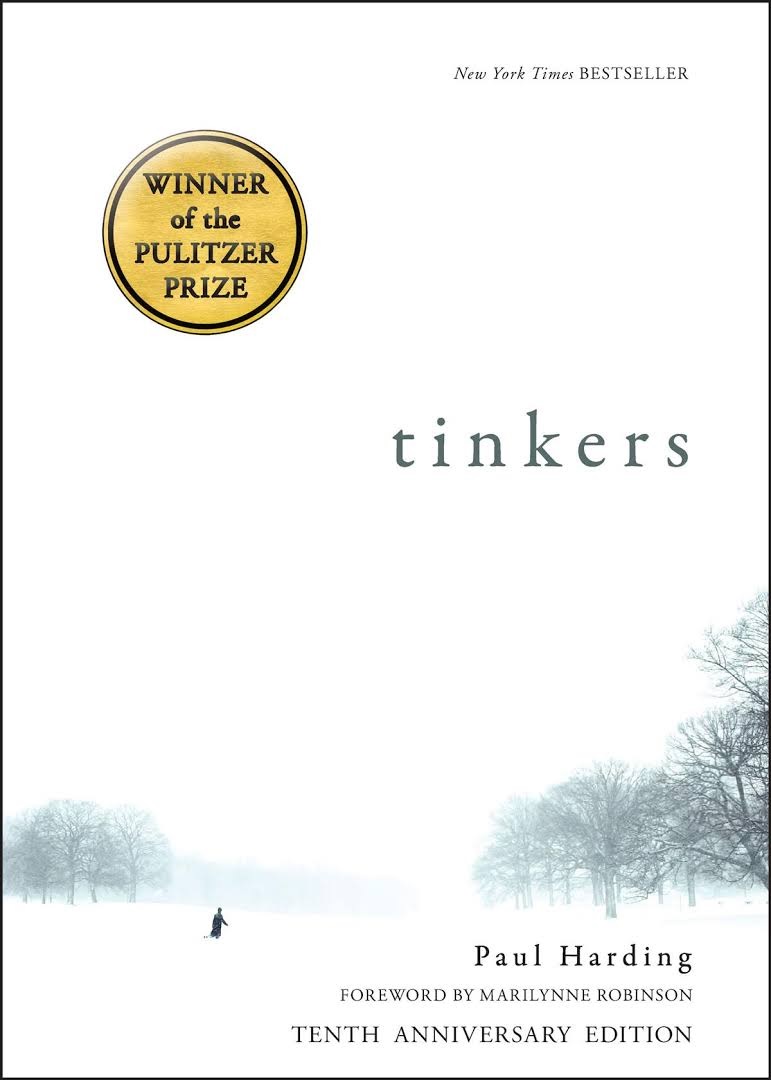 This year marks the 10th anniversary of Paul Harding's Tinkers, which was the surprise recipient of the the 2010 Pulitzer Prize for Fiction. (Later, the New York Times admitted that it had passed on reviewing Tinkers on its initial publication.) Publisher Bellevue Literary Press, founded in 2007, enjoyed a serious reputation boost. Bellevue was the first small press to win a Pulitzer for Fiction since Louisiana State University Press won for John Kennedy Toole's A Confederacy of Dunces in 1981.

Tinkers follows George Washington Crosby, a former clock repairman now on his deathbed. George thinks back to his impoverished childhood in the backwoods of Maine, and his father, Howard, an itinerant peddler who traveled in a donkey-drawn cart and struggled with epilepsy. The Pulitzer board described the novel as "a powerful celebration of life in which a New England father and son, through suffering and joy, transcend their imprisoning lives and offer new ways of perceiving the world and mortality." In 2013, Harding continued the Crosby family saga with Enon, which follows a year in the life of Charlie Crosby, George Crosby's grandson. In January, Bellevue Literary Press published a 10th anniversary edition of Tinkers with a new foreword by Pulitzer Prize-winning novelist and essayist Marilynne Robinson ($16.99, 9781942658603). --Tobias Mutter
Mother's Day Reads
The joy in giving and the joy in pregnancy; caring for a child and introducing them to your traditions; the sacrifices made and the relationships built... All of these books feature loving, strong--sometimes unusual--relationships between children and their mothers and grandmothers, perfect for a Mother's Day-weekend read.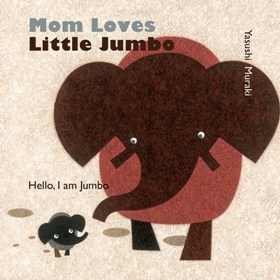 In Yasushi Muraki's board book, Mom Loves Little Jumbo (minedition, $9.99), Little Jumbo the elephant tells readers ages 3 to 5 all about Mom. The tiny, gray elephant stands next to his mother, her shadow stretching from the left-hand page to the right: "Mom is big. I am small." Mom protects and cares for Little Jumbo in a number of ways: keeping him dry during a rainstorm, catching him when he falls, playing hide-and-seek with him.... Most important, though, "my mom loves me," Little Jumbo states on the last page, as the two walk off together, "and I love my Mom."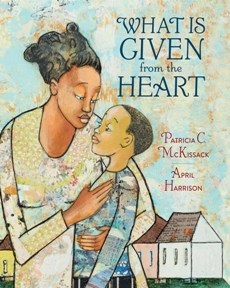 The late Patricia McKissack joins celebrated folk artist and illustrator April Harrison to capture the joy of giving in their picture book, What Is Given from the Heart (Schwartz & Wade, $17.99, ages 4-8). After his father's death, James Otis and his mother lose their farm and move to the Bottoms. There, the African American family of two try to rebuild their lives. After a "skimpy" Christmas and new year, Valentine's Day approaches and their pastor implores his congregation to donate items for "love boxes" that will go to needy families, reminding them that "what is given from the heart reaches the heart." Though they don't have much, James Otis and his mother embrace the opportunity to create gifts for another struggling family of two and are pleasantly surprised at how giving from the heart can quickly circle back. What Is Given from the Heart is a loving tribute to collective work, responsibility and the joy that comes from giving freely.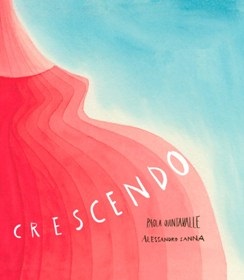 Crescendo by Paola Quintavalle, illustrated by Alessandro Sanna (Enchanted Lion, $19.95), takes readers ages 4 and up through human gestation. Each week (from fifth to 40th) is honored in a two-page spread featuring Quintavalle's carefully chosen text and a facing illustration. Is there a picture book that better marries art and science? Sanna seems to be working in watercolor with a brush dipped in celestial light, and yet Crescendo is deeply scientific. Quintavalle has loaded her pen not with sunshine and moonglow but with information about human gestation; her narrative, utterly faithful to the stages of embryotic and fetal growth, concludes with "Developmental Facts That Inspired the Text." Crescendo is a book that belongs on multiple shelves in the kids' section of a bookstore or library, but the truth is, it wouldn't be out of place in an adult's collection.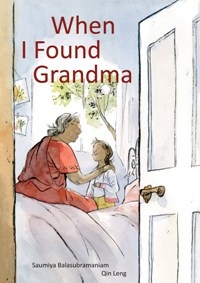 When Maya says that she wants to see her grandma, Mother explains "Grandma lives many thousands of miles away." But, a few weeks later, while walking home from school, Mother says she has a surprise for Maya: Grandma! Maya learns right away that Grandma does things differently. She wears a "crimson sari" and offers "homemade sweets." The next morning, instead of taking the exciting trip Father had promised to an island with a carousel, Mother says the family will pray at a temple for Holi. Maya "wish[es] Grandma had never come." Saumiya Balasubramaniam takes a tender look at the complexity of family bonds--especially when they span oceans and generations--in When I Found Grandma, illustrated by Qin Leng (Groundwood Books, $17.95, ages 4-7). Maya's initial unhappiness gives way to acceptance and love; her struggles with cultural differences are convincingly stated, and reinforced perfectly by Leng's lively ink-and-watercolor illustrations. Maya's and Grandma's compromises are satisfying and, by the end, Maya didn't just find Grandma, they "found each other."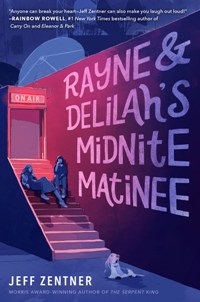 Delia, whose father left when she was young, knows that she's unlikely ever to roam far from Jackson, Tenn.: even with three jobs between the two of them, she and her mom (with whom she has a close relationship) make just enough to squeak by. Delia plans to go to community college and keep filming her cable access TV program, Midnite Matinee, with best friend Josie, who has dreamed of working in TV since she "was old enough to remember." Even though she doesn't love the terrible scary movies that Delia adores, Josie enjoys playing Rayne Ravenscroft to Delia's Delilah Darkwood on their Elvira-style show. When the girls are invited to a horror convention, Delia becomes convinced she can talk someone into producing Midnite Matinee. The girls set off on a road trip that could make or break the show--and their friendship, too. Rayne & Delilah's Midnite Matinee (Crown, $17.99, 12-up) is a change for Jeff Zentner, whose earlier works featured teens in significantly more tragic situations. Throughout, Zentner keeps the spotlight firmly planted on his two female protagonists, creating a novel as funny as it is bittersweet.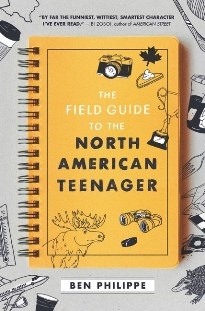 In Ben Philippe's The Field Guide to the North American Teenager (Balzer + Bray, $18.99, ages 13-up), Norris Kaplan is about to start his junior year at a new school in Austin, Tex., where his Haitian/Canadian mother recently got a job. Generally pessimistic and especially sour about moving to "the surface of the sun," Norris is determined to hate everything. Which he does. Until Aarti Puri. "Dark skinned... with... artificially dyed dark red hair," Aarti is artistic, smart and not into him. But Norris makes a deal with cheerleader Madison when applying for a job at her family's restaurant: he'll cover shifts when she has practice and she'll help him with Aarti. Slowly, with Maddie's help, Norris starts hanging with cheerleaders, makes friends with a nice loner and goes on dates with Aarti. All the while, Norris writes in his journal witty, self-satisfied "field guide" entries disparaging life in Austin and the people around him. That type of mindset can backfire, though, and, when it does, Norris might have to leave Texas altogether. --Siân Gaetano, children's and YA editor, Shelf Awareness

Book Reviews
Fiction

Soft Skull Press, $16.95, paperback, 304p., 9781593763909
Sourcebooks, $15.99, paperback, 320p., 9781492671527
Counterpoint, $26, hardcover, 336p., 9781640091771
Dzanc Books, $16.95, paperback, 296p., 9781945814846
Mystery & Thriller
Crown, $27, hardcover, 384p., 9781524761509
Biography & Memoir
Viking, $28, hardcover, 320p., 9780735225176
Sports

Holt, $28, hardcover, 272p., 9781250182036
Pets
Pegasus Books, $27.95, hardcover, 336p., 9781643130705
Performing Arts
Oxford University Press, $21.95, hardcover, 176p., 9780190651763
Poetry
Graywolf Press, $16, paperback, 160p., 9781555978419
Children's & Young Adult

Chicken House/Scholastic, $17.99, hardcover, 336p., ages 8-12, 9781338353853
Candlewick Press, $19.99, hardcover, 304p., ages 12-up, 9780763681531
Cameron Kids, $16.95, hardcover, 40p., ages 4-8, 9781944903589

Hunter Killer:
A Pike Logan Novel
by Brad Taylor
isbn:

9780062886026


William Morrow
January 7, 2020



an exclusive interview with
bestselling author Brad Taylor

In HUNTER KILLER, Pike Logan is headed to a very dangerous part of the world called the Triple Frontier—the three-way border region where Argentina, Brazil, and Paraguay meet. The Taskforce books are certainly character driven but, how important is setting to your novels?
"I'm a reader first, and one of the reasons I read is to escape my world and enter another one. Because of that, I try to capture the settings in my novels away from what the usual reader knows. Give them a bit of an escape, as it were. Every culture is different, and every country is different, and exploring that on the page is something I strive to do. To that end, if I can get there, I most certainly do. Sometimes that's not possible, of course. For instance, I didn't travel to North Korea or Syria for portions of Daughter of War, but I did travel everywhere else in the novel."

ALSO FEATURED ON THE
the big THRILL…
| | | | | |
| --- | --- | --- | --- | --- |
| | | | | |
GOOD GIRLS LIE by J. T. ELLISON: In GOOD GIRLS LIE, bestselling author J. T. Ellison takes readers down the hallowed halls of The Goode School and shows us that even the privileged aren't safe from expert liars. Not everything is as it seems. Find out more here.
BOXING THE OCTOPUS by TIM MALEENY: Real life can get in the way of writing—and for author Tim Maleeny, "real life" created an almost 11-year gap between his last Cape Weathers novel, Greasing the Piñata, and his latest series installment, BOXING THE OCTOPUS. Read more at The Big Thrill.
LET JUSTICE DESCEND by LISA BLACK: Three days before a key election, US Senator Diane Cragin is electrocuted on her own doorstep—a shocking twist in an already brutal political race. More on Lisa Black's LET JUSTICE DESCEND in this The Big Thrill author interview. Find out more here.
DEEP STATE by CHRIS HAUTY: Chris Hauty's debut thriller, DEEP STATE, takes readers on an unnerving ride through a plot to overthrow the government and the fight to protect American democracy. Visit The Big Thrill for more.
THE LAST SISTER by KENDRA ELLIOT: Until Kendra Elliot immersed herself in Diana Gabaldon's work, she really didn't see herself as a writer. But after reading Gabaldon's books over and over she noticed how satisfied she felt—and that ignited her career. THE LAST SISTER is her 16th novel. Read more here.