From the Shelf
The World Is Meant to Be Celebrated
"Once upon a time, when women were birds, there was a simple understanding that to sing at dawn and to sing at dusk was to heal the world through joy. The birds still remember what we have forgotten, that the world is meant to be celebrated."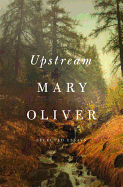 Terry Tempest Williams takes her own words to heart in When Women Were Birds (Picador, $17), a kind of personal-memoir-turned-essay-collection in which she explores the deeply personal (the loss of her mother, reflections on her Mormon upbringing, anecdotes from her marriage) and the universal (finding one's voice, especially as a woman). Though the collection covers heavy topics and difficult subjects, it is ultimately a celebration of the world with its many flaws and quiet moments of beauty. Mary Oliver, like Williams, is known for her reflections on nature and our place within it. Though Oliver is most frequently recognized for her poetry, the essays in Upstream (Penguin Press, $26) offer celebratory meditations on work, art, nature and place--and the intersections of each.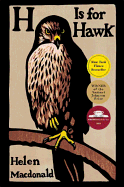 The tradition of reflective, personal writing does not stop with Williams or Oliver. In her memoir, H Is for Hawk (Grove, $16), Helen Macdonald offers a similarly lyrical reflection on life (and death) and grief and healing. Following the sudden death of her father, Macdonald adopts a goshawk and spends months training it--and grieving. Jessa Crispin's The Dead Ladies Project (University of Chicago Press, $16) is an autobiographical exploration of the lives of women writers who scrapped their conventional lives for something new and different. Margaux Bergen's Navigating Life (Penguin Press, $26) is ostensibly a collection of advice from mother to daughter, but is as introspective as it is instructive.

Though each of these women writes about a different time, a different place, and a different topic, they are all, as Williams might say, finding their song--remembering what might be forgotten, and celebrating what is remembered in the process. --Kerry McHugh, blogger at Entomology of a Bookworm

In this Issue...

This picture book biography of Jacqueline Kennedy Onassis shows that she was always equal parts style and steel.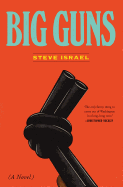 A gun lobbyist manipulates the U.S. political system in order to introduce legislation that would require all citizens to own a firearm.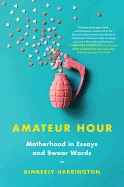 These are hilarious and often touching essays on motherhood, marriage, parenting, bodies, bake sales, grief, careers and other perils of adulthood.
Review by Subjects:
Fiction ⋅ Mystery & Thriller ⋅ Graphic Books ⋅ Biography & Memoir ⋅ Parenting & Family ⋅ Performing Arts ⋅ Poetry ⋅ Children's & Young Adult

Upcoming Events
Angie Cavallari - Trailer Trash: An 80s Memoir
10/24/2018 - 7:00PM
A Memoir About Growing Up as an '80s Child in Impoverished Trailer Parks, A Book Talk & Signing #TatteredLoDo
Julia Corbett - Out of the Woods
10/24/2018 - 7:00PM
Seeing Nature in the Everyday, A Book Talk & Signing #TatteredAspenGrove
RMFW Panel with Warren Hammond & Angie Hodapp
10/25/2018 - 7:00PM
Twenty Stories about the Masks We Wear, An Anthology by the Rocky Mountain Fiction Writers with Guest Authors #TatteredColfax
10/25/2018 - 6:00PM
Join us at #TatteredAspenGrove for a discussion on our favorite books!
Tim Mohr - Burning Down the Haus
10/25/2018 - 7:00PM
Punk Rock, Revolution, and the Fall of the Berlin Wall, A History Book Talk & Signing #TatteredLoDo
Eli Saslow - Rising Out of Hatred
10/26/2018 - 7:00PM
The Awakening of a Former White Nationalist, A Political Science Book Talk & Signing #TatteredColfax
Keith Gessen & Benjamin Kunkel
10/26/2018 - 7:00PM
A Fiction Reading & Signing of A TERRIBLE COUNTRY & INDECISION #TatteredAspenGrove
David E. Nielson - The 9 Dimensions of Conscious Success
10/26/2018 - 7:00PM
It's All About You!, A Business Book Talk & Signing #TatteredLoDo
10/27/2018 - 7:00PM
Sweet & Savory Baking in Your High-Altitude Kitchen, A Cookbook Talk & Signing #TatteredAspenGrove
Adrienne Rinaldi - Brew and Asana
10/27/2018 - 7:00PM
A Beersnobchick's Guide to Beer and Yoga, A Book Talk & Signing #TatteredLoDo
Arthur A. Hansen - Barbed Voices & Nisei Nysayer
10/28/2018 - 2:00PM
Japanese History Book Talk & Signing #TatteredLoDo
The Learning Source Book Bash with Matthew Sullivan
10/28/2018 - 6:00PM
Book Presentation, Silent Auction, Light Refreshments, Cocktails, Books, & More! TICKETS ON SALE NOW! #TatteredColfax
Great Reads
Rediscover: Sergio Pitol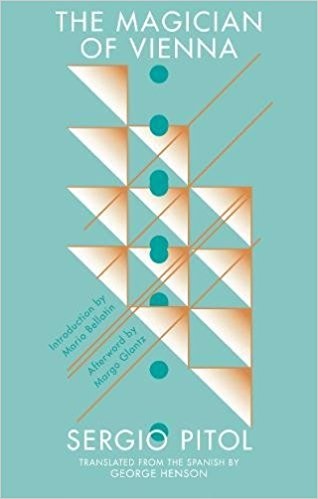 Mexican author and translator Sergio Pitol died last month at age 85. In 2005, he was awarded the Cervantes Prize, given for lifetime achievements in Spanish literature. Pitol spoke seven languages, and brought the works of Jane Austen, Henry James, Joseph Conrad and Polish Nobel Laureate Witold Gombrowicz to Spanish-speaking readers. Pitol's own writing is a genre-bending mix of essay, fiction and memoir that made him an important figure in contemporary Spanish literature. As King Juan Carlos I of Spain said in 2005, Pitol's works had "seduced us with the truth."

Pitol's most acclaimed work is his Trilogy of Memory: The Art of Flight (1996), The Journey (2000) and The Magician of Vienna (2005), in which he merges autobiography, fiction, travelogue and dreams. "He didn't write the way that was expected from a Latin American writer, like García Márquez," said author Margo Glantz. "His work broke all those molds, and it is one of the reasons his literature was less read and translated to other languages." The Trilogy of Memory was only recently translated into English by George Henson between 2015 and 2017. The Magician of Vienna was longlisted for the 2018 Best Translated Book Award and is available from Deep Vellum Publishing, along with the rest of the trilogy. On November 6, 2018, Deep Vellum will publish Mephisto's Waltz: Selected Short Stories ($15.95, 9781941920831). --Tobias Mutter
The Writer's Life
Chuck Palahniuk: 'A Creature of Infinite Light & Love'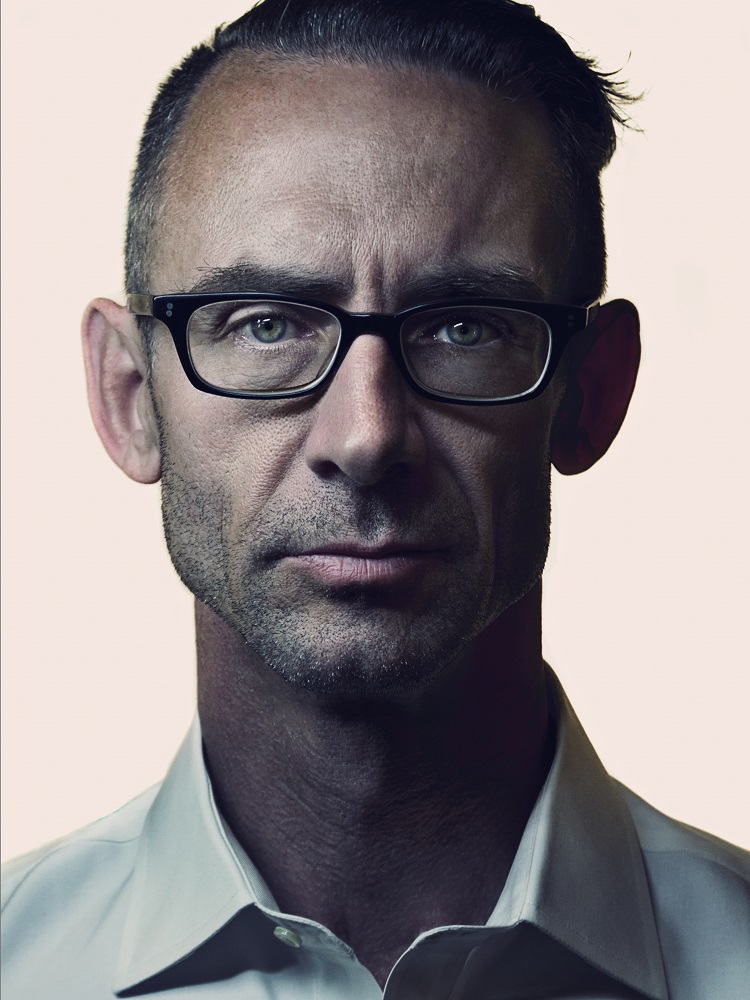 photo: Allan Amato
Chuck Palahniuk is the author of more than 17 fictional works, including Fight Club, Invisible Monsters, Rant and, most recently, Make Something Up. He lives in the Pacific Northwest. We talked with him recently about Adjustment Day (Norton, $26.95), his first novel in four years.

What did you learn from working in the graphic novel and coloring book mediums these past years?

Comics rock in so many ways. First, the transitions are so mechanical: panel-to-panel and page-to-page, so you can edit story like film or collage. Second, comic theory states that the only place to truly surprise readers is at the page turn. This requires a set-up on the lower right page and a strong payoff on the upper left page that follows. Imagine a novel with strong plot points every two pages. What a challenge! Comics are brutal to write, but they made me better at intercutting between multiple characters, plots and realities. I never could've written Adjustment Day without having written Fight Club 2.

Fight Club and Adjustment Day both deal with social revolution. What similarities and differences lie in the hearts of the two stories?

In a way, I wanted to mimic Ayn Rand's evolution from The Fountainhead to Atlas Shrugged. Her earlier book, like Fight Club, deals with empowering an individual to the point where he can pursue his own vision. Adjustment Day is like Atlas Shrugged because it depicts a group of like-minded people combining their power for social change. If people misinterpret anything about Fight Club, they miss the fact that it's about developing the potential of individuals, and the organization is ultimately doomed as those people pursue their own paths.

Adjustment Day seems to play naturally, if extremely, off current politics. How much inspiration did you take from the state of our nation?

None. With the exception of technology, are our travails any worse than those of other times? And when you compare Trump's tweets to FDR's fireside chats and the then-new miracle of radio, our era feels like just another political rerun. That's one reason why I wanted to depict a major change in society. To date, most of our novels depict bad times--for example, The Grapes of Wrath--but they don't depict a lasting solution. Like Atwood's The Handmaid's Tale or that book The Turner Diaries, I wanted to show a big game changer. But I wanted a comedy. Well, some comedy.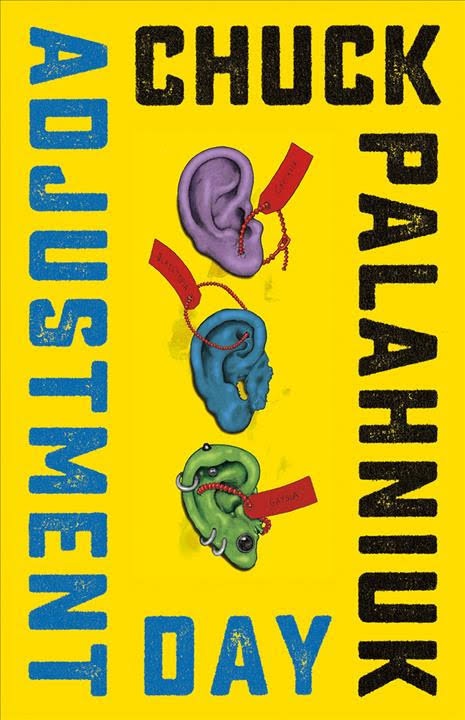 These days, many young adults face futures that look bleak, with traditional goals like home ownership or building a family seemingly out of reach.

Before anybody panics, she or he needs to read Doug Coupland's Generation X, wherein my generation--note: Coupland defines Gen X as anyone born between 1960 and 1972, and since he's the author who invented the distinction I defer to him--faced largely the same hurdles young people currently face. Each generation creates a miracle solution that saves it. Or each generation redefines success, beauty, value, wisdom, so those ideas aren't dictated by the previous generations. Skinny jeans, for instance.

Over the course of the story, you reference a handful of American classics. What about those titles inspired you to reference them?

The books I mention in Adjustment Day are all books I love, but it's depressing how they default to the status quo. I want the Joad family from The Grapes of Wrath to take some radical political action, start cooking anthrax or whatever. And I want Nick Carraway in The Great Gatsby to confront Tom and Daisy Buchanan and say, "Daisy killed your mistress, you dumbass! And you're both rich, conceited dickwads!" But, no, the Joads just putter into the sunset, and Nick tucks tail and runs home to Minnesota or wherever. On the other hand, the books of Ayn Rand....

Jonathan Swift said, "Satire is a sort of glass wherein beholders do generally discover everybody's face but their own... so very few are offended with it." You've promised Adjustment Day will offend everyone.

Ah, the curse of the publisher's jacket copy. It's never my goal to offend or provoke. I am a creature of infinite light and love; there, I've said it. Listen to the Warm, and all that. But I think publishers are nervous and feel they must make the statements you cite in order to ward off any overly sensitive readers.

One of your characters says you write only about castration and abortion. Did you have to work hard at developing just the right insult for yourself, or did it roll right off the pen?

Hey, kill your darlings--and what's more precious than the author's little ego? In the Fight Club 2 graphic novel, I absolutely trash and humiliate myself. But people love that. Critic Laura Miller of Salon says it's because readers secretly despise writers. True? I hope not. But remember the scene in Fight Club where Marla is being rescued from her suicide attempt? As the paramedics rush past her to the locked apartment, she tells them that the girl they want to save is unredeemable and infectious human waste. It's touching when a character bad-mouths herself or himself. But it shows an honesty that's not based on always looking good.

The implementers of Adjustment Day take their guidance from a publicly curated Internet list of victims. Since you exist in the world of Adjustment Day, do you think you made the List?

The publishers who rejected Adjustment Day--and there were several--did so because they thought the online kill list was too attractive and too plausible. Just as my book Fight Club launched a million backyard fight clubs, nervous editors were certain this new book would have people pooling their hatred in lists of targets to assassinate. Silly editors. People are already online joining forces to destroy the lives of their common enemies. And while I don't want to get shot in the head while signing books at a Barnes & Noble, neither do I want to waste a long, long life writing trivial, boring, defeatist fiction. The Joad baby is born dead. Nick retreats back to Minneapolis. Spank me on my bare bottom, but I'd really rather be Howard Roark.

As a children's librarian, I have to ask--is there any chance you might write a book for young readers someday?

I've written that book, about a boy who lives next door to one of those "body farms" where forensic experts leave corpses to decay in various exposed conditions to study the timeline and process. Of course, the boy falls in love with the place. It's like Christopher Robin next to the Three-Acre Wood, but instead of Pooh and Piglet, my kid pals around with a badly rotted girl his own age. Isn't YA romance wonderful?! The working title is The Fault Is in Our Bowels because, you know, bacteria. And gas. --Jaclyn Fulwood
Book Reviews
Fiction

Simon & Schuster, $26, hardcover, 320p., 9781501118029
W.W. Norton, $26.95, hardcover, 336p., 9780393652598
Archipelago Books, $20, paperback, 375p., 9780914671923
Pamela Dorman/Viking, $26, hardcover, 368p., 9780735224537
Mystery & Thriller
Atria, $26, hardcover, 368p., 9781501154645
Graphic Books
Bellevue Literary Press, $24.99, hardcover, 128p., 9781942658405
Biography & Memoir
Thomas Dunne/St. Martin's, $40, hardcover, 1024p., 9781250104557
Parenting & Family

Harper Perennial, $15.99, paperback, 320p., 9780062838742
Performing Arts
Flatiron, $26.99, hardcover, 304p., 9781250105950
Poetry
Graywolf, $16, paperback, 120p., 9781555978068
Children's & Young Adult

Balzer & Bray, $17.99, hardcover, 32p., ages 4-8, 9780062485021
Chronicle, $14.99, hardcover, 160p., ages 6-8, 9781452152325