From the Shelf
Children's Books: What on Earth?
Shelf Awareness pays tribute to everyone's favorite planet with these Earth Day picture books about trees, warthogs and "other wonders yet to find."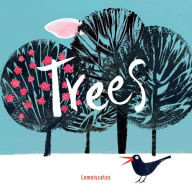 Trees (Candlewick, $14.99, ages 2-5) comes from Lemniscates, a Barcelona author/ illustrator/designer collective. Mixed-media illustrations and a few words on each beautiful two-page spread capture the "marvelous beings" that are trees. Trees is more than a pretty book, though--in simple language, it provides real, if poetically minimal, information: "Trees clean the air we breathe... and give us their seeds with every piece of fruit." Simply lovely.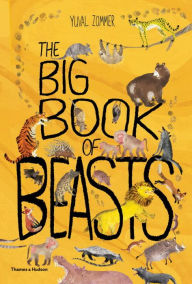 Whimsical and quirkily informative, The Big Book of Beasts (Thames & Hudson, $19.95, ages 4-up) by Yuval Zommer (The Big Book of Bugs) introduces readers to baboons, binturongs, honey badgers and more than a dozen other mammals that qualify as beasts: "deadly, cunning and most importantly, wild!" Charming illustrations of each beast in various poses and habitats, questions and answers ("Just how lazy is a sloth?"), search-and-find challenges and special sections on Ice Age beasts and saving endangered species make this "Big Book" a big winner.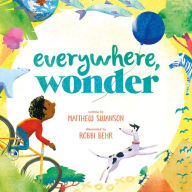 Everywhere, Wonder (Imprint/ Macmillan, $17.99, ages 3-6) takes readers on a wild adventure from a little boy's bookshelf into the wide world. Dreamy pictures show the boy drifting right through the panes of his bedroom window--as if it were water--into wondrous settings: rocketing toward Earth from the moon, gazing into the tree canopy in the jungles of Brazil and, in Sheboygan, enjoying an ice cream cone with "a tractor mechanic named Shirley." Author Matthew Swanson and illustrator Robbi Behr (Babies Ruin Everything) show readers how a lively imagination and a good book can carry you anywhere in this world--and beyond. --Emilie Coulter, freelance writer and editor

In this Issue...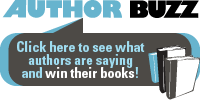 Laugh, cry and get hungry with essays by the late, great writer and food connoisseur Jim Harrison.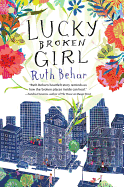 This emotionally true and unexpectedly funny chapter book about a Jewish Cuban-American fifth grader who spends a year in a body cast has wide appeal.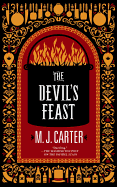 Historical details in The Devil's Feast add authenticity to an intriguing Victorian mystery.
Review by Subjects:
Fiction ⋅ Mystery & Thriller ⋅ Food & Wine ⋅ Biography & Memoir ⋅ Social Science ⋅ Essays & Criticism ⋅ Children's & Young Adult

Book Candy
Fiction and Job Performance
Fast Company offered "five ways reading fiction makes you better at your job."

---
Mental Floss noted "10 everyday phrases that come from printing."

---
Pop Quiz: "How good are you with synonyms?" asked Buzzfeed.

---

"Love The Hobbit? You can now buy your very own Hobbit home" in Montana, Travel+Leisure noted.

---

Tariq Ali shared his "top 10 books about the Russian Revolution" with the Guardian.

---

House & Garden's Emily Senior offered tips on "how to make your bookshelves beautiful" in Vogue.

Music of the Ghosts
by Vaddey Ratner
In 2012, Vaddey Ratner burst onto the literary scene with her New York Times bestselling autobiographical debut, In the Shadow of the Banyan, which told a partially fictionalized version of her childhood in war-torn Cambodia. In a second novel laden with as much beauty and sorrow as her first, Ratner returns to the blood-stained Khmer Rouge era but also leads readers into a modern-day nation still reeling from the brutalities of its recent past. With each exquisite turn of phrase, Ratner illuminates the physical and emotional landscape of a society healing while constantly confronted with reminders of its trauma.
As a child, Suteera escaped with her aunt Amara across the border of Thailand from a Cambodia where they had "no more home, only this land of open graves." The other members of her family, from her grandparents to her baby brother Rin, perished in the attempt to flee the Khmer Rouge, with one notable exception. Her father, Sokhon, disappeared into the jungle before the evacuation, and although she "can't help but believe he vanished violently," Teera knows she will likely never know how and where his life ended. Now a grown woman living in Minneapolis, a haven for refugees from many countries, Teera must make an emotionally harrowing journey back to her birth nation to lay her aunt's ashes to rest. In addition to the remains of her last relative, Teera carries a letter from an old man at the Buddhist temple of Wat Nagara who says he and Sokhon were interred together in Slak Daek, one of Pol Pot's secret security prisons. He has in his possession some musical instruments that once belonged to her father and wishes to pass them on to her. Signed "the Old Musician," his letter also includes a sentence fragment that might have become a deeper explanation of his relationship with her father had the writer not discontinued it and crossed it out. She longs for and dreads her meeting with this stranger who might tell her how her father died, ending her uncertainty but also any hope that Sokhon survived.
The Old Musician, "disfigured and half-blind," awaits Teera with mixed emotions as well, believing "[s]he will be his scourge, her loathing his final and lasting suffering." Treated with respect by the monks of Wat Nagara, he believes "that he could never be forgiven, that he did not deserve the charity and kindness he received, that his only salvation was in the realization of his own worthlessness, his evil and monstrosity," which he believes Teera will recognize. He will give her Sokhon's lute-like sadiev, the "ancient instrument used to invoke the spirits of the dead," which he plays for the temple. He will also give her the truth--that he once loved her mother, Channara, a diplomat's daughter with an imagination that could "weave an entire universe into existence, a world so intriguing you can lose yourself in it for days," and that he shared a bond infinitely more intimate and terrible with her father.
Newly returned to the land she fled, Teera confronts memories both harrowing and cherished. When she thinks of her father's sadiev, "[s]he remembers a song, not its name but its melody, each note like a drop of predawn rain on bamboo." As she comes to know the Old Musician, she also finds herself falling in love with his young friend Narunn, a former novice monk turned doctor whose drive to help others and buoyancy of spirit helps her to discover "the cartography of love, its ever-expanding frontiers."
Although less autobiographical than Ratner's first release, Music of the Ghosts also draws on the author's personal experience and invokes the hot, lush Cambodian landscape with her trademark lyrical imagery. Often achingly sad but ultimately uplifting, the story begins with a war refugee's experience of fear and flight but truly distinguishes itself by approaching the question of what comes next for a survivor. Told in three movements with a short prelude and a free-verse interlude, Ratner's story of survivors confronting their losses and rebuilding their lives resonates like a symphony. Flashbacks to Teera's childhood and the Old Musician's persecution as an educated man under the Khmer Rouge regime give the reader a visceral sense of terror and confusion and show the desperate actions torture will coerce from even the best of people. Taken in concert, their stories illustrate a nation forging its way through the aftermath of a toxic dictatorship; although the regime fell, citizens must now live alongside neighbors who hurt them or grapple with the guilt of their own actions, whether complicit or coerced. Ratner transcends the victim/villain dichotomy by bringing Teera and the Old Musician together to heal as fellow survivors rather than accuser and perpetrator. She also skillfully orchestrates Teera's emotional journey as she discovers that beneath the shroud of painful memories, her love for her first homeland still lives. Themes of loss and hope, survivors and the metaphorical ghosts that follow them, crescendo into a rich finale celebrating the resilience of the human spirit and the permanence of love despite the death of loved ones. Readers will shed happy and sad tears as they savor this reminder that regardless of past hurts, life is ours to live. --Jaclyn Fulwood
Touchstone, $26, hardcover, 336p., 9781476795782
---
Vaddey Ratner: The Meaning of Home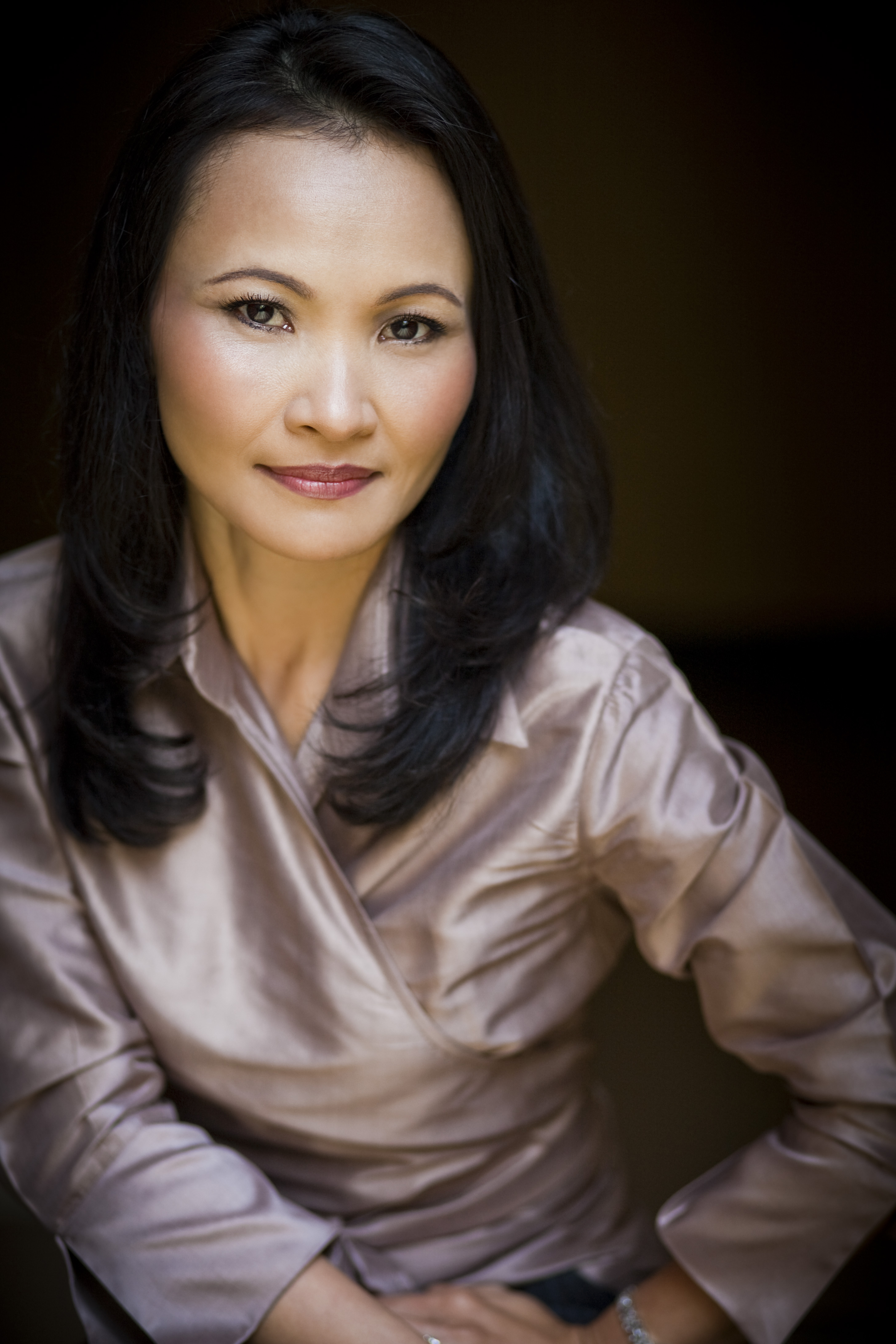 photo: Kristina Sherk
Vaddey Ratner is a survivor of the Khmer Rouge regime in Cambodia. Her critically acclaimed bestselling debut novel, In the Shadow of the Banyan, has been translated into 17 languages. She is a summa cum laude graduate of Cornell University, where she specialized in Southeast Asian history and literature. Her new novel, Music of the Ghosts, returns to Cambodia, and will be published by Touchstone on April 11, 2017.

In the Shadow of the Banyan was largely autobiographical. How was the writing process different for Music of the Ghosts?
With Banyan, the fear was delving into something so deeply personal, so traumatic. I didn't know whether I could stop the process, once I dove in. I didn't know what else I would find.
With Music of the Ghosts, I knew I wanted to write about forgiveness and atonement, but I didn't know whether the characters I'd brought forth were capable of this. I felt more at the mercy of the characters. I had to access them on all levels--emotional and psychological, political and intellectual--and within these pages, I had to make their journey complete, without the chronology of real-life histories to rely on.
Banyan was scary because it was autobiographical; Music was scary because it wasn't.
The horror of the Khmer Rouge is hard to comprehend. How do people in such dire situations hold onto their humanity?
If, in your deepest, darkest hour, you can for one moment imagine the humanity of the enemy, if you can open your soul to see that the person who inflicts suffering on you has possibly himself suffered greatly so that he's driven by his own pain to hurt and harm, if you can see in him a human being like yourself, then you can imagine something larger than that moment's cruelty. This, I think, opens up the possibility for transformation, in yourself as well as in your enemy.
Teera's return to Cambodia throws her emotions into turmoil. Was it the same for you when you returned to Cambodia?
The emotional turmoil that Teera experiences on returning to Cambodia certainly echoes my own. Like Teera, when I fled as a child I had the sense that the most essential part of me was buried with the dead--that I had died with my family. When I returned as an adult, it was a kind of rebirth. I was able to find some relatives, and because so many had been lost, the ties we were able to rebuild were that much stronger.
Teera's profound love for what she calls home resonates with my own. When you flee as a refugee, you're essentially seeking the refuge of humanity, which has been attacked and diminished in the home you've left behind. You're seeking not just any place, but a place that upholds a sense of home and community, even if different from your own. Once you've known the meaning of home--the sanctuary and protection it provides--you have the urge to create a home wherever you end up. Teera's enduring love for Cambodia gives birth to the love she feels for America.
Music plays an important role in this story. What does music mean to you?
In Cambodian culture, music plays a role in every aspect of daily life--births and deaths, unions and separations, illness and healing. There is music offered to the gods, to spirits of the forests, to ancestors, to guests. When one sets off for a journey, there is music to send the traveler on the way. Music is blessing, music is nutrient, music is medicine. When words fail, music is our other voice.
How did you research the parts of the story that did not come from your first-hand experience?
I had examined the historical context as a student at Cornell University, where I was trained to take a very probing gaze, even when looking at something so personal. Few readers are familiar with the history and politics of the Khmer Rouge, including the connections to America's own exercise of power. So much I'd wanted to say about that history I couldn't say in Banyan, because the story was told from a child's point of view. The challenge in Music was to tie the intimate, personal trauma with the historical tragedy--to make both equally powerful.
In what ways do you honor the "ghosts" in your life?
I honor the ghosts by giving credence to the living. As a writer, I try to tell stories that emphasize how precious life is, how unjust and untimely death can be, how unnecessary and wrong war is. There is enough suffering already without the expedient of weapons. Often the destruction brought on by violent conflicts is so thorough that you're left with only the memories of your loved ones. So as a survivor, you try to keep alive the hopes and dreams of those who died. You live as if also for them.
Personally, honoring the sacrifices of those who enabled me to survive requires me to imagine suffering much deeper than my own. Every time I return to Cambodia, I'm confronted with that suffering directly. I meet musicians, many of them maimed or blind, who have the energy to smile or to greet me, to offer music to a world that has trained itself to turn its gaze away. To live each day of my life aware not only of the suffering but the hope tied to it, I feel, is the only way to earn my right to share this world.
In your author's note, you mention one of the book's central concepts, that perpetrators and victims live side-by-side in today's Cambodia. Do you think the divide between them can ever truly be healed?
For me, healing doesn't mean taking something broken and making it whole again, which is not possible. Nor is it the same as forgetting. If anything, healing requires an active process of remembering, examining the wounds. I believe the divides can be healed, but as with any wound, there remains a scar, and I hope that scar serves as a reminder not to inflict further suffering.
Was it difficult to pace the novel since you were juggling different points in time? How did you decide where to reveal secrets and when to keep them waiting?
Yes, every time I thought about the trajectory of the novel, and how my characters would develop, my heart fluttered. I would ask myself again and again how was I going to carry it off? Astonishment, anger and despair, sympathy, acceptance, forgiveness. How would I convey all this? How was I going to achieve all of it at once?
I remember the whole time I was writing, I kept missing the mark in predicting when each layer of secrets would come. Both the Old Musician and Teera became so real that each would direct me, "No, not yet, this is not the right time." So the moment, the crucial revelation, came when both characters were ready. It wasn't something I could have plotted out far in advance. When it happened, I felt privileged to have been allowed to witness it, to have been included in the intimacy of their sharing.
I came to realize that I didn't need to know everything. Yielding to my characters actually makes for better plot development. There are elements of the past that become necessary because of where the characters are at in the present, the questions they're asking, the journey they want to take. You don't want to constantly prepare your reader for the drama you envision. You want only to propel the story forward. The material you impart has to be the thing that is most important in that moment.
You are two beautiful books into your career as a novelist. Can we expect a third?
Novel writing for me is a reflection of my own growth. I'm grappling with questions that take a long time for me to come to grips with, so I can't predict how the ideas will mature, much less when. I certainly hope there's a third, and more after!
The questions I'm confronting now circle around the theme of freedom. Empires rise and fall. Along with them, borders and boundaries and walls. These are not natural phenomena--they're things that people create, and that people undo. In a world of such shifting boundaries, what binds us, what confines us, and what makes us free? --Jaclyn Fulwood
---
Shelf vetted, publisher supported.

Book Reviews
Fiction
Scribner, $27, hardcover, 384p., 9781501154829
Ballantine Books, $27, hardcover, 384p., 9780553391961
Little, Brown, $26, hardcover, 368p., 9780316013598
Grand Central Publishing, $27, hardcover, 368p., 9781455592388
Pamela Dorman Books, $26, hardcover, 336p., 9780399562099
Mystery & Thriller

Putnam, $26, hardcover, 432p., 9780399171697
Food & Wine

Grove Atlantic, $26, hardcover, 272p., 9780802126467
Biography & Memoir
Grand Central Publishing, $27, hardcover, 272p., 9781455592340
Social Science
Dutton, $28, hardcover, 352p., 9781101983942
Essays & Criticism
New Directions, $18.95, paperback, 320p., 9780811225342
Children's & Young Adult

Nancy Paulsen Books, $16.99, hardcover, 256p., ages 10-up, 9780399546440
Sourcebooks Jabberwocky, $16.99, hardcover, 352p., ages 10-14, 9781492654490
Schwartz & Wade Books, $17.99, hardcover, 40p., ages 4-8, 9780375868450
--- SPECIAL ADVERTORIAL OFFERINGS ---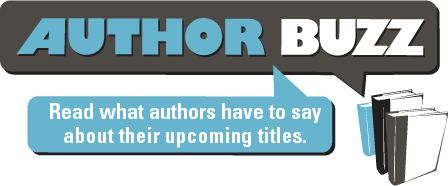 Dear Reader,



I hope you enjoy this heartwarming story of starting over. What do you do when the life you had turns out to be a lie. Lanie Jacobs is doing just that and discovering that starting over can be better than anything she never allowed herself to dream of.


Sign up for my newsletter here, https://landing.mailerlite.com/webforms/landing/b2v9i5

Five of you will win an eARC of Rainy Day Friends.





Publisher:
HarperCollins

Pub Date:
June 19, 2018

ISBN:
9780062448149

List Price:
$14.99

Dear Reader,



THE MYTH OF PERPETUAL SUMMER returns to the tumultuous 1960s Mississippi; stomping grounds of award-winning bestseller, WHISTLING PAST THE GRAVEYARD. As with WHISTLING, this emotional book is sure to be a favorite with book clubs.

Tallulah James parent's tumultuous relationship and their hands-off parenting set tongues to wagging in their staid Southern town. When tragedy and betrayal arrive hand in hand, Tallulah's life is sent on a path she never imagined.

I'm giving away 5 books! Write to me — susan@susancrandall.net "summer giveaway" in subject line to win





Publisher:
Gallery/S&S

Pub Date:
June 19, 2018

ISBN:
9781501172014

List Price:
$16.00