From the Shelf
"Light" & National Poetry Day in the U.K.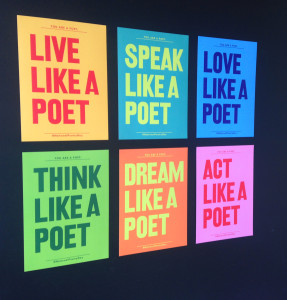 "What does it mean, to see the world as a poet does?" That was one of the questions posed yesterday in the U.K. on National Poetry Day, the "annual mass celebration of poetry and all things poetical." Participants were invited to "join in, breaking with the tyranny of prose by thinking of a poem and sharing it imaginative ways, with the hashtags #nationalpoetryday and #thinkofapoem." The Forward Arts Foundation coordinated with Macmillan Childrens Books to nominate 11 poets as NPD Ambassadors, "with special responsibility for igniting enthusiasm nationwide."

This year's theme was Light. In Bristol, National Poetry Day ambassador Liz Brownlee rounded up the city's light workers--including an astronomer, a firefighter, a cosmologist, a fire-eater and many more--to read poems about light for films to be displayed on the Big Screen in the city center. Videos from Guardian readers dedicated poems to babies, partners, friends and goats.

Physicist Stephen Hawking, along with actors Samantha Morton and Sean Bean, "joined forces with leading artists to make a series of short films encouraging people to dispense with prose for a day and make like a poet." In a film created by the artist Bridget Smith, Hawking recites a poem called "Relativity," which was written for him by the Forward prize-shortlisted poet Sarah Howe: "They say/ a flash seen from on and off a hurtling train/ will explain why time dilates like a perfect/ afternoon.../ If we can think/ this far, might not our eyes adjust to the dark?"

Across the pond, I celebrated National Poetry Day by re-reading something old (Philip Larkin's Collected Poems) and something new (John Burnside's Black Cat Bone). I also have an NPD gift for you in these lines from "Elegy: In Coherent Light" by the American/British poet Anne Stevenson: "My brains a film, I'm made of timed exposures,/ And pounding my ears and eyes with waves of light--/ These animate flakes, these pictures I call sight." --Robert Gray, contributing editor



In this Issue...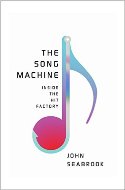 A superb, thoroughly researched and entertaining account of the music industry's transformation into a hit factory.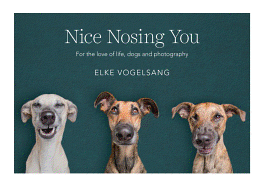 Noodles, Scout and Ioli are photographer Elke Vogelsang's rescue dogs, models and family members.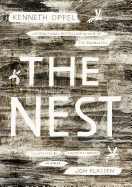 In Kenneth Oppel's haunting novel, a boy grapples with some nightmarish wasps who offer to replace his sickly baby brother with a healthy one.
Review by Subjects:
Fiction ⋅ Psychology & Self-Help ⋅ Nature & Environment ⋅ Children's & Young Adult ⋅ Reference & Writing ⋅ Performing Arts ⋅ Art & Photography

Book Candy
Books and Coffee
"The fresh smell of coffee soon wafted through the apartment, the smell that separates night from day." Haruki Murakami was just one of the authors quoted by the Guardian to celebrate International Coffee Day earlier this week.

---
Attention muggles: You can have a Harry Potter Christmas dinner at the Great Hall "like a real wizard this year," Bustle reported.

---
Noting that we are "a different breed of people," iDiva shared "11 embarrassing things all book lovers have done,"

---

Describing it as a "wardrobe fit for a bookworm," Buzzfeed showcased "33 impossibly cute ways to cover your body in books."

---
Showcasing Ellen Cantor's "series of composite photos, titled Prior Pleasures," Flavorwire featured "exhilarating photos [that] capture the pleasures of classic children's books."

The Writer's Life
Tracey Stewart: Transformed by a Cow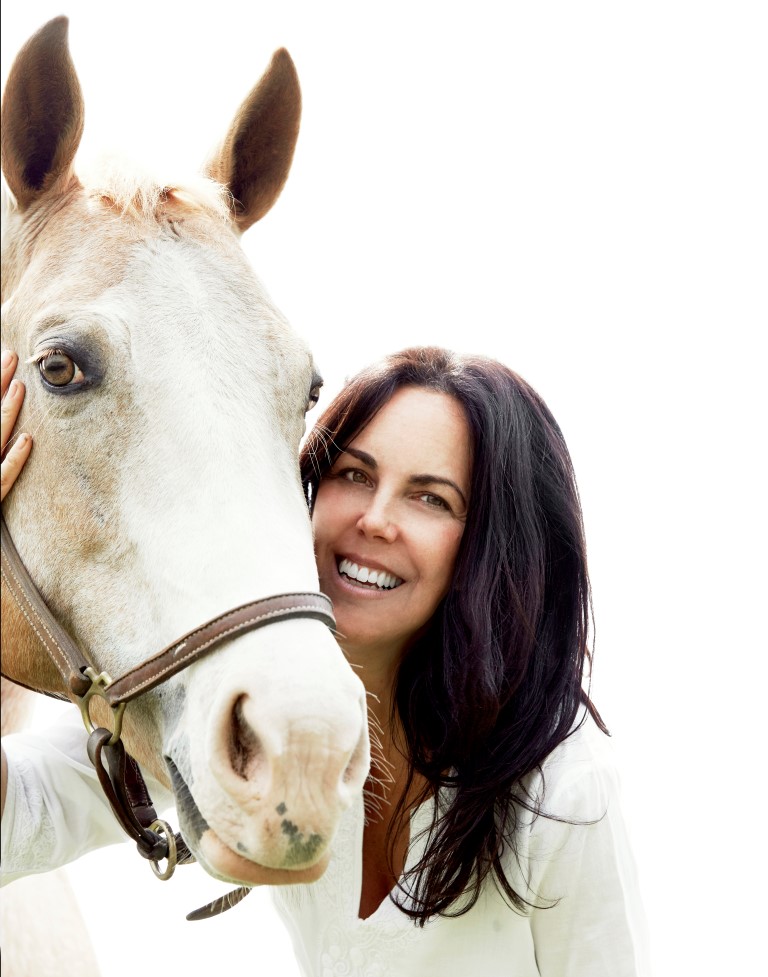 photo: Taea Thale
Tracey Stewart is the editor-in-chief of the website Moomah, which provides parents and kids with ways to contribute to nonprofits. A passionate animal advocate and expert (she's a former veterinary technician), she lives on a farm in New Jersey with her husband, Jon Stewart, two kids, four dogs, two pigs, one hamster, two fish, three rabbits, two guinea pigs and one parrot--all rescues except for the kids. Do Unto Animals, her first book, focuses on changing how we value and interact with animals. See our review below.
The story about Miss Eyebrows--the downed cow that the veterinarian offered to turn into hamburger--which instead recovered and gave birth to a healthy calf within days, was compelling. Your reflection on this experience includes the following: "I was hooked on cows and on the beauty of the relationship between animals and humans, and this was by far my next happiest day." How can we shift people's perspective from viewing animals as a commodity to creatures whose lives have value apart from our own needs?
Everyone has those transformative moments. For some it's discovering Crossfit, for others it's finding religion. For me, it was cows. Coming face to face with a cow that needed my help busted open my heart. I truly believe the easiest and most pleasurable way to shift people's perspectives on animals is to provide as many people with as many interactions with these animals as possible. Most people are compassionate and don't want to inflict pain and suffering on animals. People are also busy and hungry and distracted, so they end up compartmentalizing certain animals as food rather than as sentient creatures. But when you meet animals, you have the opportunity to see them as individuals.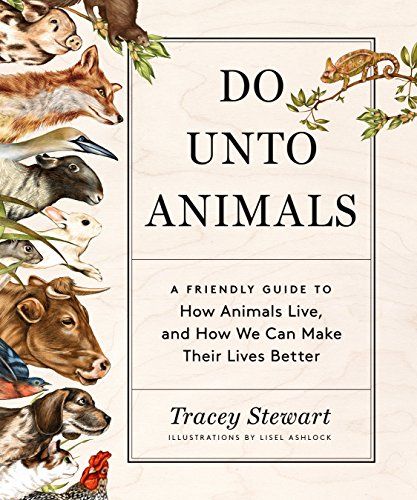 You begin Do Unto Animals with dogs and cats--the companion animals we treasure the most. However, you eventually consider many members of the animal kingdom--from bats and earthworms to birds and bees--and explain their vital function in the ecosystem. How can parents teach the next generation to value even the least appealing creatures?
Well, we all can't be pretty. Some us have to be scaly or slimy. Some of us even have to eat poo. The next generation is already born with curiosity and tenderness about other living creatures. As adults, we inadvertently lessen that sense of wonder. We get caught up in the day to day. The more we, as adults, talk about and experience the marvelous creatures around us and celebrate what they give us and what we can give them, the more we keep that innate gift alive in our children.
You write, "If we start thinking about farm animals as sentient creatures, we may have to change the way we live. Human nature usually rails against this.... I will ask you to be brave and keep reading, not because you'll learn things you don't want to know, but because you might fall in love--and we all know that falling in love can sometimes be a lot scarier." How did you decide on your approach in this section, knowing that humans objectify animals and ignore the cruelty and death that preceded their Saturday morning bacon?
I believe that, deep down, most people don't prefer to objectify animals even when the end result of their actions does just that. I think most people's motivation comes from self-preservation of habits, culture, health and avoidance of sadness and guilt. Once you really let these animals into your heart, though, you can begin to see that choosing to eat and shop differently brings not deprivation but abundance. For me, choosing to eat according to my values certainly required a period of transition, and it required some investigating, but in the end the payoff of feeling better emotionally and physically was all well worth it. I'm fortunate to be surrounded by people who--even though they may be at a different point in that journey--are still very supportive and respectful of my choices.
Rather than providing off-putting details about CAFOs [concentrated animal feeding operations] or puppy mills, you emphasize the distinct personalities and language of animals, which makes your book wonderfully appropriate for all ages. Did you have a target audience in mind while writing this?
I very much did have a target audience in mind, but it wasn't an age group or specific demographic. My goal was to cast a net large enough to catch as many reasonable, curious and compassionate people as I could.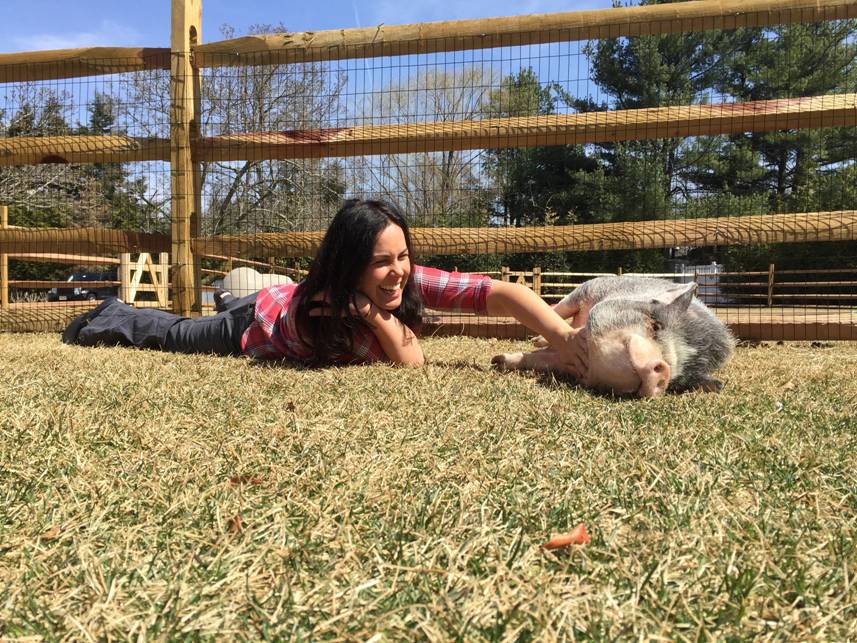 Tracey Stewart with Pugsley (photo: Vyolet Michaels)
Throughout Do Unto Animals, you describe Stewart family traditions, including making a donation to the Farm Sanctuary's Adopt a Farm Animal Program for every Thanksgiving guest. How did you decide to start this? Has any of your guests ever resisted?
At my family's Thanksgiving table, there are still many people I love dearly who eat animals. There isn't one guest, though, who doesn't delight in the adoption of their new friend from Farm Sanctuary. My cousin even cries when she sees her new buddy. The family table is where a lot of our most important and interesting conversations happen. You don't want your own personal beliefs to keep you from being at that table. Am I saddened by the turkey carcass on the table? Absolutely! To me good food, good company and good conversation make for the perfect holiday celebration. I'm not so sure where the turkey fits into all that. If I'm going to inspire change, though, I believe I have to be at that table. I subscribe to the school of catching more flies with honey.
You describe your marriage as "mixed": your husband ate meat and you did not. How did you approach the eating of animals with your children? Do you have any advice for other families in the same situation?
I think it's really important to teach children that people can have different ideas, habits and traditions and that doesn't make one lesser or better than. We try to teach our kids to question but also to listen. Even in strong partnerships there are differences. If my kids came into this world never consuming animal products, certainly their palates wouldn't have been dumbed down and I believe they'd be healthier for it. But I think the trade-off is that now they will come to their own decisions, which will feel more innate to who they are as individuals. I know their palates and minds are only expanding and I believe they'll get there all on their own. I don't want that decision to come from guilt or wanting approval. I want it to come from their own hearts. They have HUGE hearts. They'll get there. --Kristen Galles from Book Club Classics

Book Reviews
Fiction
Doubleday, $27.95, hardcover, 9780385539838
Riverhead, $27.95, hardcover, 9781594634239
Hogarth Shakespeare, $25, hardcover, 9780804141352
Little, Brown, $26, hardcover, 9780316300391
Psychology & Self-Help
Seal Press, $16, paperback, 9781580055758
Viking, $27.95, hardcover, 9780525429517
Nature & Environment
Artisan, $19.95, paperback, 9781579656232
Children's & Young Adult

Simon & Schuster, $16.99, hardcover, 256p., ages 11-up, 9781481432320
Nancy Paulsen/Penguin, $16.99, hardcover, 276p., ages 8-12, 9780399168383
First Second/Roaring Brook, $14.99, paperback, 234p., ages 10-14, 9781596439290
Reference & Writing
Penguin Books, $17, paperback, 9780143126461
Performing Arts

W.W. Norton, $26.95, hardcover, 9780393241921
Art & Photography

Hardie Grant Books, $24.95, hardcover, 9781784880057
--- SPECIAL ADVERTORIAL OFFERINGS ---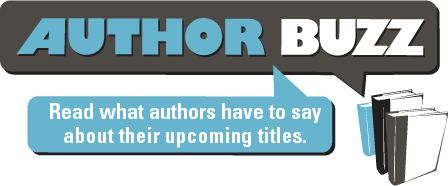 Dear Reader,

When I opened Dr. Bombay's Underwater Tea Shop in Atlanta little did I know my path would lead me to help underprivileged girls in Darjeeling, India. Now I also operate The Learning Tea, a non-profit --started by selling tea and cupcakes --that offers scholarships to these girls who were "aging out" of their Buddhist orphanage, bound for futures on the street. In Tiger Heart, you'll come with me through the streets of Mumbai, to tiny villages with roadside tea huts, to the Himalayans and you'll meet the girls of Darjeeling. Who knew this former art student turned roller derby queen (Tekillya Sunrise) would be here to tell you this story? I hope you enjoy it and please write to my publicist at kimw@hcibooks.com to receive one of 5 free copies.

Katrell Christie
http://www.thelearningtea.com




Publisher: HCI

Pub Date: 10/07/2015

ISBN: 9780757318580

List Price: $15.95
Dear Reader,

When Julie Kenner first approached me about participating in Rising Storm, I immediately said yes. Not only would writing for this fun and unique project give me the chance to work with some amazing authors, it would also bring me back to my first love—soap operas—which were the earliest stories that propelled me toward a career in romance.

In Episode 3: Crosswinds, you'll get to know more about Lacey Salt and how her brother Jacob's death has changed her, and you'll also learn how the youngest members of some of the biggest families in Storm are dealing with the tragedy. Oh, and you won't want to miss the change coming for Ginny in this episode, so be sure to read on.

Crosswinds are blowing through Storm, and everything is changing. Enjoy the breeze because a storm is brewing on the horizon.

Please write to risingstormbooks@gmail.com to win one of five copies of the ebook.

Elisabeth Naughton
http://risingstormbooks.com/books/episode-3-crosswinds/




Publisher: Evil Eye Concepts, Inc

Pub Date: 10/08/2015

ISBN: 9781942299035

List Price: $2.99
Dear Reader,

The heroine of THE PRICE OF BLOOD is Emma of Normandy, an eleventh century queen of England. As Viking armies threaten, Emma must protect her children without abandoning her royal duty. Set amid the bloody struggle for Britain's rule, this is a tale of heartbreak and courage.

Library Journal says: "Historical novel fans will embrace this excellent saga." Booklist calls it "richly textured and historically authentic."

Write me at pb@patriciabracewell.com for a chance to win 1 of 5 signed copies.

Patricia Bracewell
http://www.PatriciaBracewell.com




Publisher: Penguin Books

Pub Date: 10/13/2015

ISBN: 9780143128434

List Price: $17.00