From the Shelf
The Orwellian Bookseller
Like many people, I was both "appalled and wryly amused" by Amazon's recent misunderstanding, misquote and mis-invocation of George Orwell in its ongoing battle with Hachette. While it may just be coincidence that Orwell was name-dropped in the middle of a confrontation between an online retail giant and a publisher, it is also appropriate, given that he often wrote about his relationship to books and the book business.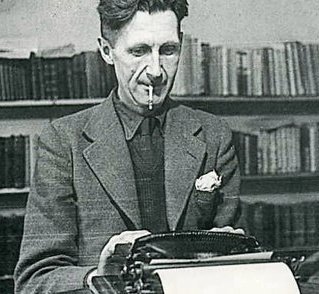 In his essay "Books vs. Cigarettes," Orwell observes that "reading is one of the cheaper recreations.... And if our book consumption remains as low as it has been, at least let us admit that it is because reading is a less exciting pastime than going to the dogs, the pictures or the pub, and not because books, whether bought or borrowed, are too expensive."

As a former bookseller, I've long been intrigued by Orwell's brief experience in the profession, the fruits of which crop up in his work. I love the Orwellian bookseller, though I'd never hire one in my bookstore. Like dyspeptic Gordon Comstock in Keep the Aspidistra Flying, who contemplates his dismal fate amongst the stacks at Mr. McKechnie's bookshop, where the "small dark room, smelling of dust and decayed paper, that gave on the office, was filled to the brim with books, mostly aged and unsaleable. On the top shelves near the ceiling the quarto volumes of extinct encyclopedias slumbered on their sides in piles like the tiered coffins in common graves."

Orwell recalls his own time as an Orwellian bookseller in the essay "Bookshop Memories" with irresistible sarcasm: "Many of the people who came to us were of the kind who would be a nuisance anywhere but have special opportunities in a bookshop."

Still, he did call bookselling "a humane trade which is not capable of being vulgarized beyond a certain point. The combines can never squeeze the small independent bookseller out of existence as they have squeezed the grocer and the milkman." --Robert Gray, contributing editor
(This is a condensed version of a longer column that appeared in Shelf Awareness Pro.)



In this Issue...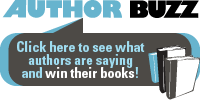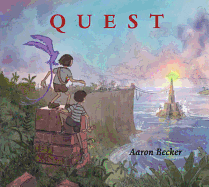 The girl and boy who met in Journey join forces in this edge-of-the-seat wordless adventure.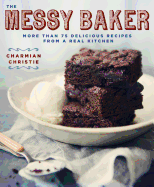 A recipe collection designed for stress-free baking and delicious results from a popular food blogger.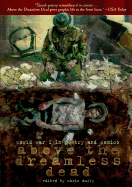 On the centennial of the beginning of World War I, a powerful interpretation of trench poetry by some of the greatest cartoonists working today.
Review by Subjects:
Fiction ⋅ Mystery & Thriller ⋅ Romance ⋅ Graphic Books ⋅ Food & Wine ⋅ Health & Medicine ⋅ Children's & Young Adult

Book Candy
Back-to-School Alternative Reading List; Capote Quotes
Back to school. It's that time of the year when "reading for pleasure will give way to burning through that syllabus," Flavorwire noted in recommending "50 great books you'll never read in school."
---

Word games: Mental Floss highlighted "10 words with difficult-to-remember meanings," noting that "sometimes there are words that you've seen, read, and maybe even used in conversation whose meaning you can never keep straight. Even after looking it up, the right definition doesn't stick."

---

The Telegraph featured "Truman Capote: 20 great quotes," including this one: "'A conversation is a dialogue, not a monologue. That's why there are so few good conversations: due to scarcity, two intelligent talkers seldom meet."
---
Andrew Rosenheim, author of The Informant, shared his choices for "the top 10 books about Chicago" with the Guardian.
---
"The 6 reactions book-lovers have to people who don't read" were showcased by Bustle, which noted that "if you really want to whip a book-lover into a Tempest-like frenzy of emotions, all you need are four little words: 'I don't read books.' "

---
Design Bump shared "27 fresh bookshelf design ideas."

Fives and Twenty-Fives
by Michael Pitre
When a road repair convoy stops to check for roadside bombs, their first duty is to scan five meters in all directions from within the vehicle. A bomb inside this perimeter can penetrate the vehicle's armor and kill everyone inside. Once five meters are cleared, scouts step outside and sweep an area 25 yards in every direction, before the convoy can move forward. These are the defining dimensions of a road repair platoon's daily work. Filling potholes in Iraq means clearing bombs.
Michael Pitre's debut novel, Fives and Twenty-Fives, follows three men from a road repair platoon in Iraq through their lives after their service has ended, alternating among their first-person voices. In disjointed chronology, the story switches between the present, when each man has either returned home or tried to create a new one, and their far more vivid past, in the Iraqi war zone.
Lieutenant Donovan is the platoon's leader, although he knows he relies overmuch on his highly competent sergeant and corporal. Both his rank and his natural reserve inhibit Donovan's relationships with the men and women assigned to him. "A real southern college boy, the Lieutenant. Like he was on his way to an outdoor jam band festival one day, took a wrong turn, and somehow ended up in the Marines." Corpsman Lester "Doc" Pleasant is from the wrong side of the tracks, but discovers a gift for medical work. The platoon's losses, which he is meant to prevent, hit him hard. Their "terp," or local-native interpreter, is a Baghdadi university student code-named Dodge ("a dependable car"), who carries a copy of The Adventures of Huckleberry Finn in his back pocket, filled with copious marginalia in both Arabic and English. He is assigned to Donovan's platoon but not allowed to talk with the Americans about his past--not that he wants to. In the aftermath of their war, the reader watches these three men try to navigate a world that no longer makes sense to them or of them.
In a post-Katrina New Orleans (and vomit-soaked French Quarter) as stark as the wartime Iraqi desert, Donovan goes back to school to pursue a business degree, but his professors don't feel that officer training should exempt him from coursework in "leadership dynamics and business ethics." He struggles to find relevance in school and work, and is haunted by the fates of the men and women of his platoon. Doc returns home to Houma, Louisiana, his military service having failed to offer the opportunity he sought. He can't stop worrying about his father working out in the shed late at night, and still carries his trauma bag everywhere he goes. Dodge is lost to his American friends, his postwar experience known only to the reader.
In flashbacks, the reader witnesses these men and others in their day-to-day work in Iraq: repairing potholes, each and every one of which reliably contains an IED; trying to keep the roads safe for military and civilian travel; balancing humanity against the ugly work of war; and riding out the senselessness of military politics. Relationships grow and fade. Their homes seem very far away, and are rarely mentioned. One exception is Donovan's phone call to his parents on his birthday, an effort that costs him dearly. Additional members of the platoon are revealed only in these flashbacks. The strong characters of Corporal Zahn and uber-capable Sergeant Gomez, for example, don't get first-person treatment; the reader has to work a little harder to puzzle out the endings to their stories, with an increasing sense of foreboding.
Meanwhile, in the present-tense sections, Donovan struggles with the social interactions required by work, school and the possibility of dating. He is hailed as a military hero but holds himself responsible for a range of less salutary personal postwar outcomes. Doc is back at the oil-change place where he worked in high school, his society consisting of a father he can hardly speak to and two friends in a band in New Orleans. Dodge inhabits a precarious position in Tunisia, a society teetering at the brink of violent protests and social upheaval; his pleas to come to the United States have been denied.
These young people come home from a deeply traumatic foreign war to a society totally unprepared to understand them. When Doc ventures out with a girl to see the fireworks on New Year's Eve, he reacts badly to the sounds of explosions and lashes out, wanting to protect those around him; but his companions, who barely know him, judge him to be unstable. Donovan carefully avoids playing the part of the "stereotypical brooding vet." The experiences of Donovan, Doc and Dodge are heartwrenching in both theaters; it is Pitre's greatest feat that they remain viscerally real people, not black-and-white cut-outs. From the perspective of his characters, there are perhaps no heroes here.
The quiet pathos of war, its aftermath and the individuals affected by it, and the inability of a tone-deaf society to relate to them, is rendered with poignancy and stark honesty in Fives and Twenty-Fives. Readers will be floored by Pitre's spare literary style, the authenticity of each of his characters' three different voices, and those mesmerizing characters themselves, who are not perfect but demand our compassion for their very reality. The story of Fives and Twenty-Fives is sometimes difficult to abide, but is also necessary; we are lucky to have such a fine voice as Pitre's to tell it. --Julia Jenkins
Bloomsbury, $27, hardcover, 9781620407547
---

---
Michael Pitre: At Our Most Human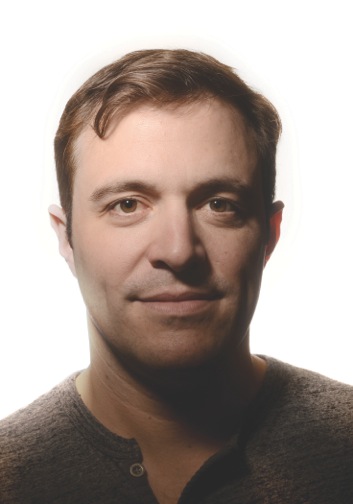 Michael Pitre is a graduate of Louisiana State University, where he was a double major in history and creative writing. In 2002, he joined the U.S. Marine Corps. He deployed twice to Iraq and attained the rank of captain before leaving the service in 2010 to get his M.B.A. at Loyola University. Pitre lives in New Orleans with his wife. Fives and Twenty-Fives is his first novel.
This novel involves a great deal of trauma, and one assumes you experienced similar trauma during your military service. Was your writing process cathartic, or painful?
My experiences in Iraq were pedestrian compared to those endured by the characters in this story. It's a book about people I knew and, in some cases, friends for whom I could have done more. That's the hidden pain of veterans, I think. We always remember the moments when we weren't brave, occasions when we didn't measure up, and days when we didn't give our best.
Catharsis came from a desire to do right by my friends. There were times when I knew exactly what would happen at the end of a paragraph, and I didn't want to finish it. Yes, it was painful. Had this book been easy to write, it would not have told a true story.
You point out that this is not a memoir, but you have a great deal in common with Lieutenant Donovan. Were the boundaries between fact and fiction always clear to you as you wrote this book? Did those boundaries turn out as you'd intended?
Early on, I was hyper-focused on maintaining a bright line between fact and fiction. Again, I set out to write a story that would honor the people I knew, and I'd hoped to avoid autobiographical details entirely. Of course, writing is a process. What crept into Donovan's character from my own experiences were mostly his feelings of inadequacy as an officer, and the awkwardness of being a young veteran in graduate school where classmates ask you to tell stories they aren't prepared to hear.
Are there any misconceptions about the war in Iraq that you felt you had to guard against?
I was eager to shun misconceptions about war in general, particularly when it came to glamour and gallantry. War is work. For the average U.S. service member in Iraq, it was filthy and exhausting, absurd and terrifying, repetitive and boring. That's why I chose road repair as the principal mission of Donovan and his Marines. It wasn't a sexy gig, but I don't know of another task in Iraq that was more dangerous or more necessary.
On the home front, I was wary of the giving the impression that Iraq War veterans are damaged goods. The young men and women who fill the ranks of the U.S. military are devoted professionals.
Though the characters in this story are struggling to reintegrate to civilian life, they aren't giving up, they aren't blaming anyone, and they aren't victims. They're working through their problems, and in the end, they're doing it together.
Who is the hero of this story? Or, your hero?
All three narrators are young men placed in impossible circumstances, and none of them come away clean. Even Donovan, who's all but bestowed with the formal title of hero, knows the truth about himself. The title becomes his burden.
The closest thing this story has to a hero is Sergeant Gomez. I've known a few Marines like her. I'd say they're my heroes.
I'm so glad you said that. She is so much more than the "token female" that she might have been in lesser hands. Her presence as the only woman in the platoon felt very natural. Does your experience bear out her ease in this story?
The short answer is yes, it's perfectly normal for a female sergeant like Gomez to run a road repair crew. Most Marines wouldn't give it a second thought. Female service members have been fully integrated into occupational specialties such as military police, combat engineers and logistics for well over two decades, and these groups have spent as much time on the roads of Iraq and Afghanistan as anyone.
In fact, as the American experience in Iraq wore on, female service members became highly valued for cultural reasons. To avoid inflaming the population, male Marines were forbidden to search Iraqi women at security checkpoints. So, a task force of female Marines was assembled, trained in search techniques and deployed to check points throughout western Iraq. This ad hoc solution was eventually formalized into a program called "Lioness," in which every battalion in theater had to answer its "Lioness tax" by surrendering a number of female Marines for the duration of a deployment.
Lioness was so successful that the program was copied and expanded into Afghanistan. Infantry patrols were reinforced with Female Engagement Teams composed of six to 10 female Marines. While the grunts dealt with the Afghan men outside, the female Marines would take off their helmets, go into the houses and develop relationships with the Afghan wives, mothers and daughters.
I served in Iraq alongside a female sergeant named Sally Saalman, who was perhaps the most feared and respected Marine in our battalion. She'd served on a forerunner of Lioness in 2005, and had been badly wounded in a suicide attack that killed six service members, three male and three female. (Read more about that event here.)
That was her first deployment. We met on her third. When Saalman raised her voice, everyone around would shut the f*** up and listen.
When and why did you decide to switch voices between your three main characters?
From the beginning, I knew the story would require three different perspectives and that one had to be Iraqi. It's a long-ignored truth of war that warriors often suffer least. This is especially true in counter-insurgency, where the civilian population is the battlefield. The Iraqi people were the mission. I felt that not representing their experience with its own, distinct voice would've been narcissistic.
As for Donovan and Pleasant, I thought it important to show how some veterans have opportunities opened for them by their service, while others are left all but ruined by it.
Did you set out to write a book with a message or moral, or is this simply the story that you held inside yourself as a novelist?
I didn't set out to write a book with a message or a moral. This really was just a story I had to tell. But along the way, as the character of Dodge became very real to me, I stumbled across the idea of people finding each other in their shared frailty. We're at our most human when we can recognize our dread, and our weakness, in others.
For those who presume they have nothing in common with a kid from Baghdad, I'd hope that they finish this book having discovered that they have everything in common with him. --Julia Jenkins
---
Shelf vetted, publisher supported.

Book Reviews
Fiction
Red Hen Press, $14.95, paperback, 9781597092753
Mystery & Thriller
Minotaur Books, $27.99, hardcover, 9781250022066
Grove Press, $25, hardcover, 9780802123206
Romance
Harlequin, $7.99, mass market paperbound, 9780373779345
Graphic Books

First Second, $24.99, hardcover, 9781626720657
Liveright, $27.95, hardcover, 9780871403148
Food & Wine

Rodale, $24.99, paperback, 9781623361877
Weldon Owen, $32.50, hardcover, 9781616288235
Health & Medicine
Farrar, Straus & Giroux, $26, hardcover, 9780374141394
Children's & Young Adult

Candlewick, $15.99, hardcover, 40p., ages 4-8, 9780763665951
Knopf, $14.99, hardcover, 432p., ages 8-12, 9780553499049
--- SPECIAL ADVERTORIAL OFFERINGS ---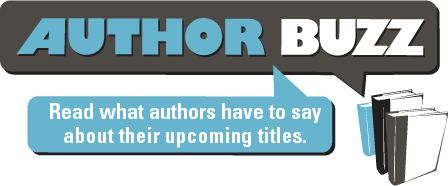 Dear Reader,

The first 5 people who email me at leo@leojmaloney.com and can tell me the name of the rogue terrorist in Black Skies will receive an autographed book. Include your name and address in the email and put "Free book" in the subject line. I'll be sending the books out by September 20th.

http://store.kobobooks.com/en-US/ebook/black-skies-3





Publisher: Kensington Publishing Co.

Pub Date: 08/26/2014

ISBN: 9780786036103

List Price: $8.99
Dear Reader,

At sixteen, Trudy Baxter is fed up with her debutante mom and deadbeat dad, and her standing reservation at the juvenile delinquent center. Changing her name to Trudy Sin, she starts a band with Cassie, Esther, and Harumi. Together they are The Screaming Divas. But will music heal them, or tear them apart? "For the Riot Grrrl in all of us!" – MTV.com I'm giving away 5 copies. Write to me – suekamata@msn.com – to win! Happy reading!

Suzanne Kamata

http://www.suzannekamata.com





Publisher:
Merit Press

Pub Date: 05/18/2014

ISBN: 9781440572791

List Price: $17.99