From the Shelf
Jerry Pinkney's Through Line
The holiday season is the ideal time for families to gather around a gorgeous story book. Jerry Pinkney's picture books are excellent candidates: they spark stories upon stories, retellings and recollections of childhood times.
When Pinkney began illustrating children's books, the line was all-important. Until the early 1980s, illustrations were created as pre-separated art. Three colors maximum could be used, and through a combination of those colors, an artist created an entire book. "We used the line to trap the color," Pinkney explained. Each time the art ran through the press with a single color, it had to line up with the image that came through the press before, layering color upon color.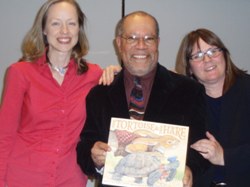 Jerry Pinkney, flanked by Andrea Spooner (l.), senior executive editor and Patti Ann Harris, senior art director, Little, Brown Books for Young Readers.
Today, Pinkney's books, such as his Caldecott Medal–winning The Lion and the Mouse and his most recent The Tortoise and the Hare (reviewed below), print on full-color presses. But the line remains all-important. "I am a drawer at heart," he said at a presentation in Hachette's offices last month. "The line is a simple tool that expresses so much." It still plays a key role in his watercolor compositions: the line shows through his transparent watercolor paints.
At age 12, in his hometown of Philadelphia, Pinkney sold papers at a corner newsstand--an ideal vantage point for a budding sketch artist. His drawings caught the attention of fellow Philadelphian John Liney, cartoonist on the comic strip Henry. At a time when no one in his family was an artist, the young Pinkney was invited to visit Liney's studio, and the cartoonist introduced him to the concept of "the usefulness of art," as Pinkney put it.
This past summer in Philadelphia, June 26 was named Jerry Pinkney Day and kicked off an exhibition of the artist's work. In 158 years of the Philadelphia Museum's history, its exhibition of Pinkney's work was the first devoted to a children's book illustrator. --Jennifer M. Brown, children's editor, Shelf Awareness



In this Issue...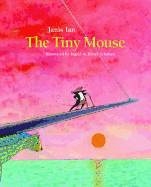 by Janis Ian , Ingrid & Dieter Schubert
Grammy Hall of Fame singer-songwriter Janis Ian's debut picture book is about appreciating what you have.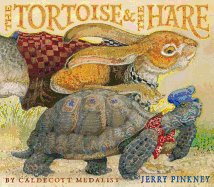 Another triumphant tale of an underdog hero from the masterful creator of The Lion and the Mouse.
Review by Subjects:

Book Reviews
Children's & Young Adult

Little, Brown, $18, hardcover, 40p., ages 3-6, 9780316183567

Lemniscaat, $19.95, hardcover, 32p., ages 4-up, 9781935954309
Creative Editions, $$19.98, 10 blocks, ages 3-6, 9781568462486
Creative Education, $25.65, hardcover, 24p., ages 2-6, 9781608183418
Disney/Hyperion, $15.99, hardcover, 40p., ages 3-6, 9781423174370
Scholastic/Orchard, $17.99, hardcover, 40p., ages 4-8, 9780545384957
Tara Books, $34.95, hardcover, 40p., ages 4-8, 9788192317144
Abrams, $16.95, hardcover, 40p., ages 3-7, 9780870708930
Little Simon/S&S, $29.99, hardcover, 12p., ages 6-up, 9781416960805
Candlewick, $16.99, hardcover, 40p., ages 7-10, 9780763658557
Big Picture Books/Candlewick, $35, hardcover, 112p., ages 7-10, 9780763668969
National Geographic Society, $24.95, hardcover, 192p., ages 8-12, 9781426313806
Viking, $16.99, hardcover, 144p., ages 10-up, 9780670014064
Little, Brown, $17, hardcover, 280p., ages 9-up, 9780316210584
Dutton, $16.99, hardcover, 368p., ages 10-up, 9780525426158
Walden Pond/HarperCollins, $6.99, paperback, 342p., ages 8-12, 9780061963797
Knopf, $16.99, hardcover, 304p., ages 12-up, 9780385752725
HarperTeen, $17.99, hardcover, 342p., ages 12-up, 9780061255632
Little, Brown, $18, hardcover, 304p., ages 13-17, 9780316205016
Nancy Paulsen/Penguin, $18.99, hardcover, 354p., ages 12-up, 9780399165795
--- SPECIAL ADVERTORIAL OFFERINGS ---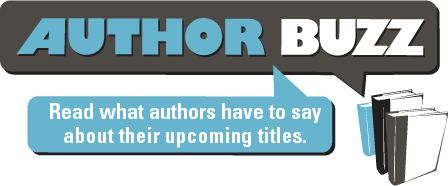 Dear Reader,

THE PIECES WE KEEP is a novel about a young boy's violent, recurrent night terrors that unseal a trove of family secrets tracing back to WWII, forever altering the lives of those around him. "The past collides with the present in this sensitive and multilayered story. The contemporary twist will be a treat for fans of WWII historical fiction."—Beth Hoffman, New York Times bestselling author Email marketing@kensingtonbooks.com to win one of 5 copies of the book!

To learn more visit: www.tinyurl.com/TPWK1 and watch a special trailer on the highly anticipated novel.

http://www.kristinamcmorris.com/




Publisher: Kensington Publishing Corp.

Pub Date: 11/26/2013

ISBN-13:
9780758281166

List Price: $15.00
Dear Reader,

A Romeo and Juliet live in married bliss. That's how Gui-yong and Eum-chun enjoy life in Korea in 1949. Soon, they must accept the unthinkable--invite a woman into their home to bear them a necessary male child. Their five-year-old daughter, Mi-na, knows her being a girl has caused the disaster. The Korean War breaks out and tears flesh and souls. The separated couple wage a war to keep their love ablaze. I'm giving away five books. Write maija_devine@hotmail.com to win!

Chosen as a 2013 Kirkus Review Stars & Recommended Books List in Fiction & Literature

http://www.MaijaRheeDevine.com

". . . a realistic sketch of a Korea that few Westerners have seen . . . . Each of [the characters'] stories is rich with emotion, and their problems give the novel depth and complexity. . . . achingly beautiful. A complex, uniquely Korean love story that shouldn't be missed." -- Kirkus Reviews Koreana review of The Voices of Heaven, Autumn issue, p. 72




Publisher: Seoul Selection USA, Inc

Pub Date: 05/15/2013

ISBN-13:
9781624120039

List Price: $16.00
Cheers Readers!

An American public relations agent who is never far from her social media takes on an old-fashioned "Mr. Darcy" from England and is not excessively diverted...


…Until she sees his educational "striptease" act, "Undressing Mr. Darcy." Can he find his way into her heart without so much as a GPS? It'll take three festivals filled with Austen fans, a trip to England, an old frenemy, and a flirtatious pirate reenactor to find out…

Email kdoornebos@yahoo.com with "UNDRESSING MR. DARCY Reader Giveaway" in the subject line to win 1 of 5 books!

www.karendoornebos.com




Publisher: Berkley, Penguin

Pub Date: 12/03/2013

ISBN-13:
9780425261392

List Price: $15.00