From the Shelf
Great Music, Great Reads: A Personal Guide
I will never know enough about music, but I'm not inclined to read books devoted exclusively to the subject. Instead, I rely upon personal guides, writers who explore music in context with other aspects of our world like art and literature, philosophy and history.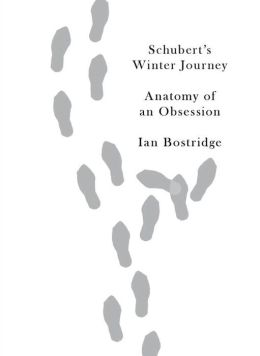 In April, I heard English tenor Ian Bostridge in concert, singing Schubert's "Winterreise," a stunning 24-song cycle for voice and piano. Then I read his new book, Schubert's Winter Journey: Anatomy of an Obsession, which consists of 24 chapters, each inspired by one of those songs. Bostridge's beautifully-crafted (in every sense of the term) book reflects the diverse interests of a world-class singer and Oxford University-trained historian, who once wrote a book titled Witchcraft and Its Transformations, c. 1650-1750.

He notes that Samuel Beckett "was a great admirer of Schubert, and of 'Winterreise' in particular. And there is something deeply Beckettian about the piece." He observes that it "is incontestably a great work of art which should be as much a part of our common experience as the poetry of Shakespeare and Dante, the paintings of Van Gogh and Pablo Picasso, the novels of the Bronte sisters or Marcel Proust."

Winter's Journey joins a long list of books that have served as guides during my reading life. While some are "music books," like composer Philip Glass's insightful memoir Words Without Music (which I'm reading now), most are not. I think of the palpable "sounds" of Mahler in Teju Cole's Open City or the way music weaves through Colin Dexter's Inspector Morse novels. I can almost hear the musicians in Vikram Seth's An Equal Music, Balzac's Gambara and, more recently, Emily St. John Mandel's post-apocalyptic Station Eleven.

In a review of Winter's Journey, composer Glen Roven wrote: "I know these songs very well, but 90% of what Bostridge wrote was completely new to me." What more can you ask from your personal music guide? --Robert Gray, contributing editor



In this Issue...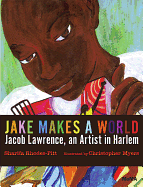 Sharifa Rhodes-Pitts and Christopher Myers offer a window into the childhood of artist Jacob Lawrence, who grew up to immortalize his era.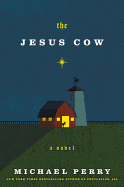 A small Midwest community is turned upside down when a calf is born on Christmas Eve with the image of Jesus Christ on its flank.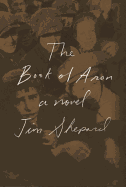 A compassionate view of suffering in the Warsaw Ghetto, through the eyes of a child.
Review by Subjects:
Fiction ⋅ Mystery & Thriller ⋅ Science Fiction & Fantasy ⋅ History ⋅ Children's & Young Adult

Book Candy
22 Great Genre Books by Women
Flavorwire recommended "22 thrilling, imaginative and twisted genre books by women."

---

Are you nervous about "reading in restaurants without being weird, awkward or getting ketchup on your book?" Quirk Books offers a few helpful tips.

---

"Grubbling" is just one of "10 Old English words you need to be using," according to Mental Floss.
---
Not quite "The End." Buzzfeed found "16 perfect books to fill the void left by Mad Men."

---
"Writers are finding imaginative ways to negotiate the new era of electronic intimacy with readers," the Guardian noted in showcasing "10 authors who excel on the Internet."

The Travels of Daniel Ascher
by Deborah Levy-Bertherat , trans. by Adriana Hunter
Countless books and films have explored the Holocaust and its effects on those who survived. While estimating the number of lives ultimately affected and the myriad ways in which it shaped them is impossible, the subject inspires ongoing introspection: How much more trauma can original trauma beget, and how can human beings ever move forward once touched by such horrors? In her tightly layered debut novel, The Travels of Daniel Ascher, Déborah Lévy-Bertherat imagines a man haunted by his World War II childhood, and a family marred by the secrets of the past.
Even as a little girl, Hélène Roche had always found her great-uncle Daniel gauche and embarrassing. The odd one out in a family as sedentary as hobbits, Daniel Roche came to reunions wearing a coat with as many pockets as he had fantastical stories of his world travels. While he held the other children spellbound with tall tales of his daring escapades, Hélène stood unmoved. Her immunity to his charm also extended to The Black Insignia, the bestselling children's adventure series Daniel wrote under the name H.R. Sanders, beloved by her brother and children the world over.
Now a young woman studying at the Institute of Archaeology in Paris, Helene moves into a room Daniel offers her in his nearby apartment building. When hearing her fellow students discussing their excavation experiences, "She thought she'd be a beginner for the rest of her life." However, her work on a children's cemetery dig earns their respect, and her relation to Daniel catches the attention of classmate Guillaume. Like most of their contemporaries, Guillaume grew up on the exploits of Peter, hero of The Black Insignia. He cannot believe Hélène never read the series; imagine having J.K. Rowling as your aunt but never reading Harry Potter. Partly spurred by Guillaume's fascination with Daniel when she introduces them, Hélène becomes curious about her great-uncle and his work. She knows her family adopted Daniel during WWII and successfully hid his identity as a Jewish orphan from the authorities. However, as she investigates his past, every inquiry gives way to more questions about his birth family, the Aschers, and his separation from them, as well as his place in the Roche clan. She begins to scrutinize The Black Insignia,too, trying to work out certain plot discrepancies that have bothered its fans for years, searching beneath the façade of series hero Peter for the true face of Daniel. Her hunt for the truth takes her both across the ocean and into the secrets of her Paris neighborhood, and introduces her to previously unseen sides of her relatives, as well as several strangers, including a concentration camp survivor who tells her, "I wouldn't say I saw death up close in Birkenau. I was inside it, you see.... I was right inside death."
The size ratio between story and page count of this novel somewhat resembles a circus clown car act: the reader opens this petite book to find a sprawling, expansive story. Lévy-Bertherat accomplishes this feat not through sleight-of-hand but through thoughtful construction and layers of meaning. That great pain can lead to great art is hardly a disputed concept, but Lévy-Bertherat encourages the reader to ask what that art represents--a grieving process, a healing catharsis, a hiding place from the pain itself? Readers will be left wondering if fiction can ever be purely false, or if some germ of the author's truth always enters into a work. Moreover, if fiction is a falsehood, does it have the same power to injure as outright lying?
Hélène's initially disaffected view of her great-uncle might reflect youth's customary disdain for elders, or perhaps Hélène senses even as a child that he represents a wrinkle in the fabric of her family. Despite her ambivalence, to the reader Daniel is at once a combination of enigma and the fantasy relative few of us had, one who traveled the world for months at a time and returned with presents and outrageous accounts of his swashbuckling adventures. Although he frequently absents himself from the narrative, when he appears, Daniel charms the reader with his eccentricity and a wistfulness Hélène fails to see at first. The traumas of his childhood, the loss of his true family, have in some ways turned Daniel into something of an adult Peter Pan, a lost boy who lives as a grown up but whose pain retains its immediacy from childhood. At one point, he even seems to fly like Pan, trying on a pair of new shoes and joking, "...this is great, now I'm like the poet Rimbaud, the man with soles of wind." While Hélène works to decide whether he is H.R. Sanders, bestselling author, Daniel Roche, outlandish world traveler, or Daniel Ascher, bereft Jewish orphan, the reader sees him shift among all three roles.
Before publishing a novel, Lévy-Bertherat translated works by Russian writers Mikhail Lermontov and Nikolai Gogol into French. With Daniel, she has created a man who constantly works at translating his past into a palatable story, while Hélène translates the family rumors and scraps of history into a cohesive narrative of Daniel's past. While the Holocaust certainly shaped Daniel's life, anyone who has tried to piece together a family history will relate to this translation loop. With an emphasis on our simultaneous needs to disguise our suffering and tell our stories, Lévy-Bertherat highlights a most human conundrum in a mystery whose resolution will fill readers with sorrow and hope. Ink sketches by Andreas Gurewich help to conjure the Parisian setting and give an air somewhat reminiscent of a children's story, leaving readers to wonder if they have experienced not just Lévy-Bertherat's novel, but a chapter of The Black Insignia as well. --Jaclyn Fulwood
Other Press, $22.95, hardcover, 9781590517079
---

---
Déborah Lévy-Bertherat: The Translation of Grief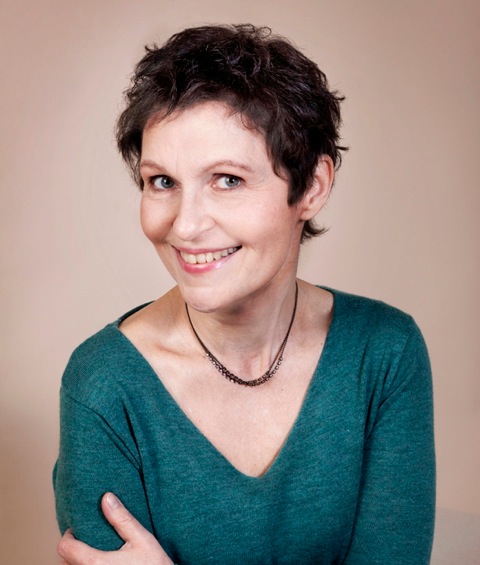 photo: Tina Merandon
Déborah Lévy-Bertherat lives in Paris, where she teaches comparative literature at the École Normale Supérieure. She has translated Lermontov's A Hero of Our Time and Gogol's Petersburg Stories into French. Her first novel, The Travels of Daniel Ascher, is an Indies Introduce selection for spring 2015. Lévy-Bertherat recently shared with us beautiful images that helped inspire her and thoughts on the human fascination with history.
What inspired the story of Daniel Ascher?
It took me more than 10 years to write this book. In the beginning, I had two distinct ideas: one concerned the complex relationship between a Jewish child and the family that hid him during the Second World War; the other concerned the life of a writer who created for himself a heroic alter ego in a series of adventure novels. It took some time for me to understand that these two ideas were connected, and that the writer I was imagining was the child grown up. And so Daniel Ascher was born.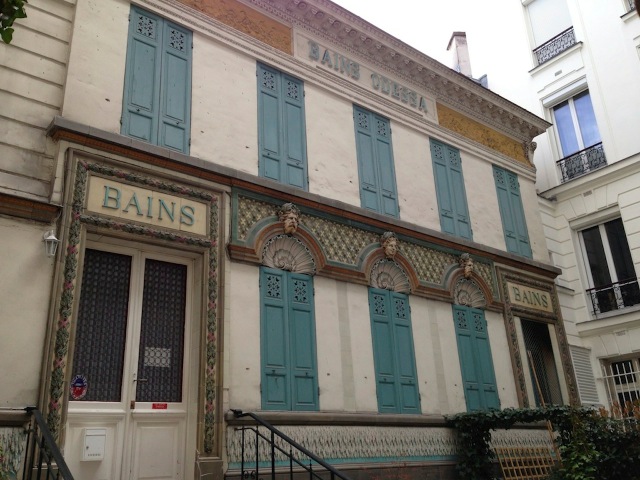 His story is enriched by all sorts of treasures. I walked a lot around my neighborhood, Montparnasse, looking for traces of the past, kind of like Patrick Modiano, whom I admire very much. At Rue d'Odessa, at the bottom of a courtyard, I discovered marvelous public baths.
My old Paris building, which is full of hiding places, became Daniel's home (Andreas Gurewich, the book's illustrator, came by my place to draw it!). In Auvergne, some friends showed me their attic, where two Jewish girls had been hidden; the farm owned by the Roche family, who adopted Daniel, resembles theirs.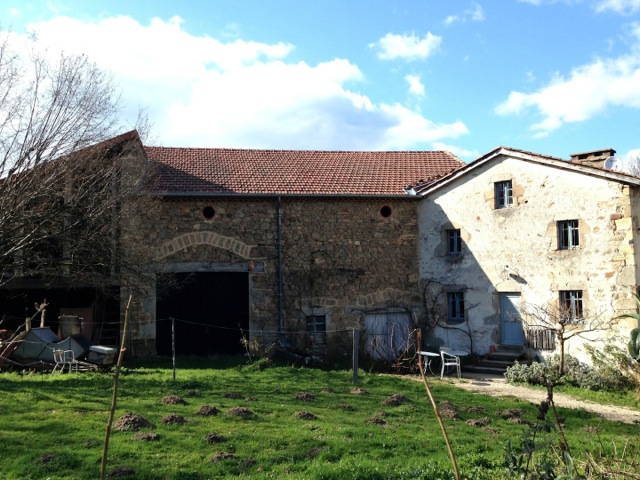 I also slipped in fragments of the history of my friends and family. Daniel's father is a photographer, like my grandfather.
Do you think art has the power to heal grief?
I don't know if art can truly heal grief, but it can transform it and make it sublime. A great number of works have come from mourning. Victor Hugo's poems for Léopoldine, his daughter who passed away, are perhaps the most beautiful ones he's ever written.
Daniel, the writer, is incapable of telling his own story; it would be too painful--so he creates the Black Insignia series. But in closely reading these books, Hélène, his great-niece, will realize that all their young heroes are manifestations of Daniel, and that his fictions are a mask of his life. In a sense, she tracks down the lie that saved his life. There's something terrible and fascinating in the destiny of the Jewish children who were hidden: all the children play at lying, at making up stories. For a time these children had to lie continually. If they stopped playing the game, they would be lost. The game became a trap.
Daniel Ascher finds a way to overturn the trap, to gain power from it. His creative energy allows him to escape from his status as victim. At 10 years old, he's already a novelist. Writing becomes for Daniel much more than a source of consolation or resilience: he creates an entire world and offers it to thousands of young readers. His fans claim ownership over the series and identify with his characters. And this, without a doubt, is the greatest joy for a writer: that readers recognize themselves in his books. I was incredibly moved by conversations with readers who were themselves hidden children, and who told me they saw themselves in Daniel's story.
What do you think drives the human obsession with the past?
It's true that we are all obsessed with the past. Our identity is linked to memory: that of our own lives, that of our parents and grandparents, of everything that came before us. In Hélène's case, her fascination with the past comes from what she senses is a flaw in her family's history. There's a mystery that surrounds Daniel, this great-uncle who is so different from the rest of the family, the adopted child whose origins no one knows. But for a long time Hélène doesn't want to know anything, probably because she senses that for her this past has serious implications. Archeology is a detour to understanding. She will apply her methodology to family excavation: observation, patience, documentation. She ends by becoming a specialist in mosaics; symbolically, she perpetuates the reconstruction of the familial puzzle.
As someone who has translated books, how do you feel about having your own work translated?
Reading your own work in a different language is an extraordinary experience. I had the fortune of being translated by Adriana Hunter, a translator of great talent, who has worked on more than 20 novels and has won many awards. She's also someone who is very open. We spent a long time talking over the phone and I realized that my experience as a translator was very different from hers: in translating the classics (Gogol, Lermontov) I could not change one word; I had to add notes to offer clarification. Adriana could modify the text slightly to clarify certain points, like which songs were being quoted--what is evident for a French speaker may not be so for someone who speaks English.
But what is lost in one place is compensated for in others. Adriana's English is superb, and I was charmed from the very first sentences. I had the impression of rediscovering my own book, the way one rediscovers a familiar face when it's seen under a different light. I hope that the other translations will be as beautiful.
What type of research did you do for this story?
I read a lot of documents on the Occupation, particularly the testimonials of the Jewish children who were hidden (for example, the collection Paroles d'étoiles and the works of Serge and Beate Klarsfeld). I was curious to know how these children were perceived by the families who took them in. One testimonial struck me: the daughter of one of these families spoke of the difficulty of building an emotional attachment, because they didn't know how long the young refugees would be staying with them. I held on to these words, and I lent them to the character of Suzanne, the grandmother.
My goal wasn't to write a historical novel; I avoided explanatory scenes, but held on to everything that was exact. The big events (like the fact that the French Jews were not arrested in the mass raid on June 16, 1942--the Vel' d'Hiv roundup), but also the details (the seal on the postcards sent from the Drancy internment camp, or the magazines that the children of that time read). In the end, I had my manuscript read by a specialist, the historian Alexandre Doulut, to make sure there weren't any errors.
My goal was for Daniel's story to be realistic enough to be believed. That's why I slipped in a real historical figure, the painter Soutine. I did research on him as well; I visited an exhibition, considered his paintings. I even tried to paint the portrait that is described in the book.
What's next for you?
My second novel, Les Fiancés, is being published in France. It's the story of a passionate love that has its roots in three wars, in the world of childhood and especially in Andersen's fairy tales. --Jaclyn Fulwood
---
Shelf vetted, publisher supported.

Great Reads
Rediscover: Herman Wouk
Happy 100th birthday tomorrow to Herman Wouk, who is still writing: his memoir, called Sailor and Fiddler: Reflections of a 100-Year-Old Author, will be published by Simon & Schuster in December. Wouk's work ranks among the most popular fiction of the past century and should not be missed. Here are highlights:
The Caine Mutiny, set in the Pacific during World War II on the U.S.S. Caine, a Navy destroyer minesweeper, won the 1952 Pulitzer Prize for Fiction and was made into a movie starring Humphrey Bogart, José Ferrer, Van Johnson and Fred MacMurray. It's a gripping tale of the moral and ethical decisions made by sailors at war.
Marjorie Morningstar is the story of Marjorie Morgenstern, a wealthy, bright, attractive Jewish girl in New York in the 1930s who dreams of becoming an actress, falls in love with an older, unhappy artistic man, and finally marries another man and becomes a contented, religious mother in the suburbs. The movie version of Marjorie Morningstar featured Natalie Wood.
Wouk's World War II saga--The Winds of War, which runs from just before the beginning of World War II through Pearl Harbor, and War and Remembrance, which continues with the same characters through the end of the war--were cultural touchstones and made into two wildly successful TV mini-series in the 1980s. Through their many characters, readers experience the war across the globe, from the major battles and the inner corridors of power to the Nazi death camps. --John Mutter, editor-in-chief, Shelf Awareness

Book Reviews
Fiction

Harper, $25.99, hardcover, 9780062289919

Knopf, $23.95, hardcover, 9781101874318
Crown, $25, hardcover, 9780553418057
Morrow, $25.99, hardcover, 9780062358325
Farrar, Straus & Giroux, $26, hardcover, 9780374203412
Knopf, $25.95, hardcover, 9780385351539
Bloomsbury, $26, hardcover, 9781620400852
Mystery & Thriller
Open Road Media, $13.99, paperback, 9781497680739
Science Fiction & Fantasy
Morrow, $35, hardcover, 9780062190376
History
Knopf, $27.95, hardcover, 9780385353403
Children's & Young Adult

The Museum of Modern Art, dist. by Abrams, $18.95, hardcover, 44p., ages 6-up, 9780870709654
City Lights, $14.95, hardcover, 64p., ages 8-up, 9780872866836